SALT LAKE CITY — Before Wednesday's game, Los Angeles Clippers Doc Rivers downplayed Mike Conley's early season struggles, saying, "Eventually he'll be back to being Mike Conley. Tell him to take his time."
Rivers didn't get his wish.
Conley couldn't contain his emotions. Actually, he didn't want to. After drilling a 3-pointer at the 4:54 mark of the third quarter, Conley started waving his arms for the crowd to get louder. They obliged, but they did him one better.
A chant of "Conley, Conley, Conley," echoed through the arena.
"I've never experienced that before in 13 years of playing basketball, especially on October 30," Conley said. "You know, that was — that's unique and special. I could tell they were feeling like I was. They were waiting and had a lot of energy built up and just emotional. So it was great. It was great to feel that."
They had been waiting. He had been waiting. The Jazz had been waiting.
That wait is over. With one massive run of play, Conley erased a week's worth of struggles. He scored 18 of his 29 points in the third quarter to help the Jazz to a 110-96 win over the Los Angeles Clippers on Wednesday at Vivint Arena.
The story ahead of the game was Kawhi Leonard's absence. It ended up being about the metaphorical return of one of the game's best point guards.
Welcome back, Mr. Conley.
The third quarter simply belonged to the point guard.
He began things with a 3-pointer from just above the break. He then dribbled in and hit one of his patented off-hand floaters. Then he splashed in another triple. At that point, he was clearly starting to feel it. Conley dribbled around a screen, crossed over Ivica Zubac and laid it in. And he forced the crowd to rise and chant with his third 3-pointer of the quarter.
But he wasn't done yet.
He hit another triple — his fourth of the quarter — and then delivered a perfect lob to Rudy Gobert for a two-handed slam. Conley was 6 of 8 (4 of 4 from 3-point range) and had two assists in the third quarter alone.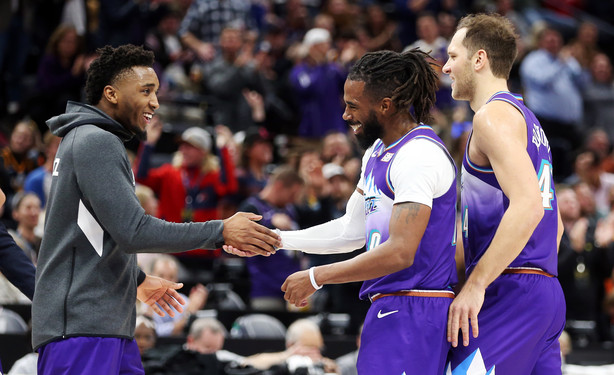 "I think early in that third quarter, you know, you hit one, hit two, and you just kind of feel it going and you feel the energy from the crowd to the teammates," Conley said. "And it's like, 'All right, yes, this is the game.'
"I knew it was going to come. I hate that it had to start this way. But hopefully, this is the beginning of the Positive Mike."
Before Wednesday, Conley's season-high was 13. He had a 1-of-16 performance in Utah's season opener and was 0 of 7 in Utah's win over Phoenix on Monday. Simply speaking, he had shot badly. Really badly.
That all changed on Wednesday. He finished the game 10 of 17 from the field and 5 of 8 from the 3-point line. He shot 70% in the second half.
"I was shooting the same type of shots, so I think once I saw a couple go in, you just feel a little bit more confident with each one in letting it go," Conley said. "But yeah, I was getting the same looks that I've been getting all year so far and you know, you can't shoot any worse. Eventually, it's gonna fall."
With him looking like his normal self, the Jazz blitzed the Clippers, outscoring them by 18 points in the third and taking a 90-71 lead in the final quarter.
This was the Jazz that many envisioned when Conley and Bojan Bogdanovic joined the team. A team filled with offensive stalwarts that could take over a game.
And it wasn't just Conley that was clicking. Donovan Mitchell scored 24 points on 10-of-17 shooting, Bogdanovic added 14 points, Gobert had 13 points and six rebounds, Joe Ingles chipped in 10 points and seven assists. And the Jazz defense held what had been the league's best offense to just 96 points.
But this night was all about Conley.
"It was great to see him you know, back in rare form," Jeff Green said. "He took what the defense gave him and he made shots, and it was awesome to see."
During the fourth, as Conley was sitting on the bench, he got a close-up on the arena's big screens. That elicited another big reaction from the crowd. Conley waved, then laughed.
Conley is back.
×