WEST VALLEY CITY — Everybody has a right to be here, and we stand together in solidarity. That was the message on Friday, as Muslim leaders in Utah condemned hatred and welcomed all Utahns to join them in prayer for the victims of the mosque shootings in New Zealand.
The Khadeeja Mosque in West Valley City welcomed the community with open arms, inviting Utahns to come and pray with them on their holy day of prayer.
Leaders with the Islamic Society of Greater Salt Lake met Friday afternoon with state and local leaders to talk about safety and brotherhood.
"Hatred does not have a religion. Hatred does not have a race," said Avais Avais Ahmed, the chair of the outreach committee of the Islamic Society of Greater Salt Lake. "Although it's not our community today, it could be ours tomorrow."
This is an opportunity, Ahmed said, for Muslims and non-Muslims in the community to come together and make sure that the misunderstanding that hate-mongers have about Islam about can be eradicated in the future.
We are all brothers and sisters and must stand together against hate, that was the message on this day.
"Today, as we believe, human is one family," said Abdul Afridi, trustee of the Islamic Society of Greater Salt Lake. "Besides religion, race, color, that is secondary. First, we are human."
State and local law enforcement and community leaders echoed those feelings today, as they joined Islamic leaders in a quick round-table discussion.
"Hate has no place in our state. Hate has no place in our community," said Rep. Ben McAdams, D-Utah. "As a part of the human family, you are our brothers and sisters."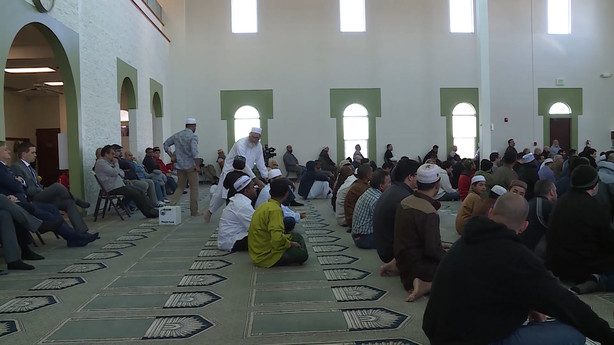 "This is really the insidious nature of hate. The hate is not only the injury that happened there, but it is also that the chill of terror that we're feeling here," said Salt Lake District Attorney Sim Gill.
Several expressed concerned about hate groups in the United States and worldwide more emboldened in recent years to terrorize Muslims.
"We need to be vigilant and let the authorities know if we see any suspected activities," said Aden Batar with the Islamic Society of Greater Salt Lake.
There are 60,000 Muslims in Utah, according to the Islamic Society of Greater Salt Lake. At this mosque, leaders said 25 percent of their worshipers are non-Muslim.
They're encouraging all to reach out and get to know Muslims better, to defuse some of the simmering suspicions and misunderstandings about Muslims.
"Lack of having contact with Muslims causes suspicion," said Amir Arain with the Islamic Society. "Suspicion leads to hatred. So, if you reach out people to people, that's the best way of laying all of the fear and suspicion."
There was a visible police presence outside of the mosque and assurances from law enforcement that they will be vigilant at all mosques on the Wasatch Front.
×
Photos
Related Stories