Gay activists deliver petition to Mormon church
October 12, 2010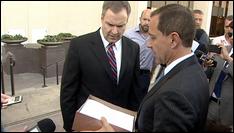 SALT LAKE CITY (AP) -- National gay rights activists on Tuesday delivered a petition letter carrying 150,000 signatures to the Mormon church following an address given by President Boyd K. Packer, a Church Apostle.
The Human Rights Campaign, the nation's largest gay civil rights organization, collected the signatures after an e-mail alert to members and supporters -- 20 percent of whom are not lesbian, gay, bisexual or transgender. The response to the alert is the largest in HRC history.
The petition letter and signatures were delivered in an 800-page stack to the church's downtown Salt Lake City office building by HRC President Joe Solmonese and leaders from Utah's gay community and a gay Mormon support group.
Petition follows General Authority's remarks
President Packer, 86, is president of the Quorum of the Twelve Apostles of The Church of Jesus Christ of Latter-day Saints. He is the second-highest ranking Mormon church leader and the next in line for the presidency of the 13.5 million-member faith.
President Packer's Oct. 3 remarks came during the fall installment of the church's twice-yearly general conference.
During his speech about same-sex attraction -- which he said was unnatural and with enough faith can be overcome -- he also reiterated the faith's opposition to same-sex marriage.
Advocates say they felt a moral obligation to speak out against President Packer's speech.
"They have their right their religious views and to speak out on those views, but we have a an obligation and a right to offer an alternative point of view, one that is based in science," said Solmonese.
However, therapists report same-sex attraction is not a mental disorder.
"Currently, there are no clear findings -- scientific or otherwise -- that support sexual orientation as being determined by any one particular factor or set of factors," said Utah psychologist Kirk Dansie.
The activist groups also held a news conference at the Gay Pride Center Tuesday morning. It began with the reminder that the day marks the anniversary of Matthew Shepherd's murder in Wyoming because he was gay.
"For each gay and lesbian child, for every child who's a little bit smaller, a little bit weaker, we speak out and we proclaim that enough is enough. The bullying must stop now," said David Melson, president of the group Affirmation.
Group seeks to change hurtful rhetoric
Solmonese says his group not out to change the Church's doctrine, just some of the rhetoric the group claims is hurtful to young people struggling with who they are. They also say it's dangerous because it can encourage intolerance and bullies.
"The danger with the statements [President Packer] made is that they will be believed as revealed truth and then used by some to rationalize discrimination or violence," Solmonese said.
Local gay rights groups say they are most concerned about young people who have lost acceptance in their families and are homeless.
"Today in Utah, 40 percent of these youth identify as lesbian, gay, bisexual or transgender," said Melissa Bird, a Utah clinical social worker. "This number has been steadily rising in the last seven years. These are our children."
Church shares desire with groups to end intolerance
LDS Church representative Michael Otterson said despite fundamental disagreements, the two sides share a desire to end tragic deaths caused by bullying. [CLICK HERE to read the entire article on the Church's statement]
"We join our voice with others in unreserved condemnation of acts of cruelty, or attempts to belittle or mock any group or individual that is different," Otterson read from a Church statement.
Church leaders urged Latter-day Saints to base their attitudes on Jesus Christ's commandment to love one another.
"The Church recognizes that those of its members who are attracted to others of the same sex experience deep emotional, social and physical feelings," the statement reads. "The Church distinguishes between feelings or inclinations on the one hand, and behavior on the other. It's not a sin to have feelings."
Church leaders and representatives from Utah's gay community have also worked together, it was noted, to create ordinances against discrimination in many areas; Otterson said though the Church opposes same-sex marriage, leaders have openly supported protections for same-sex couples in housing and employment.
"We hope and firmly believe that within this community, and in others, kindness, persuasion and goodwill can prevail," the statement concludes.
------
Story compiled with contributions from Jennifer Dobner of the Associated Press, Carole Mikita, Marc Giauque and Paul Nelson.