GOOSENECKS STATE PARK, San Juan County — The discovery of two human skulls opened the door to a Utah mystery stretching over three-quarters of a century. It also turned a Los Angeles lawyer into an author.
"Hard Twisted" is a compelling story of a sexual predator, his 13-year-old victim and at least three murders set in some of the most magnificent scenery on Earth. The book's author, C. Joseph "Chuck" Greaves, said his fascination with the story began in 1994 when he was hiking with friends.
"We stumbled upon two human skulls. And just as we crouched down to examine them, a thunderclap rolled down the canyon, shook the ground under our feet, and we just looked at each other and said, 'Wow!'" Greaves said.
That discovery launched Greaves into years of research into a bizarre 1930s saga that spread across Monument Valley, the remote splendor of Valley of the Gods, and a dugout home where Clint Palmer once lived — along with Lottie Garrett, a 13-year-old he seduced, or abducted, from Texas.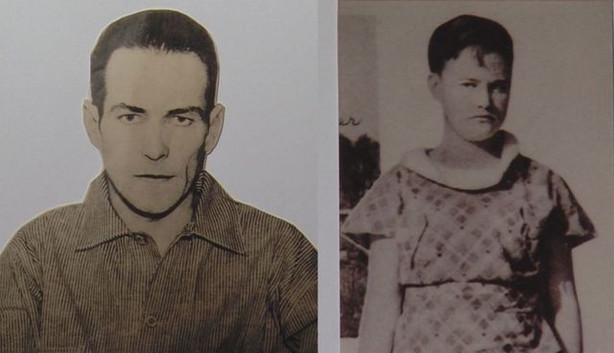 "Clint Palmer was a psychopath," Greaves said. "He'd already done three stints in prison for various sex crimes."
"For a 37-year-old man to be traveling with a 13-year-old girl who was pregnant, perhaps they felt that by moving to Utah they wouldn't attract as much attention as they would by moving elsewhere in the country," he said.
What even Lottie Garrett didn't know was that Palmer had secretly murdered her father in Texas. The discovery of his body there was highly publicized as the "skeleton murder case."
In Monument Valley, Palmer signed on to herd sheep for Harry Goulding, the legendary owner of Goulding's Trading Post. Did that somehow connect to the two skulls Greaves found 60 years later?
"The local lore said that the skulls belonged to a pair of Navajo sheepherders who were working for Harry Goulding when Clint Palmer first rode into Monument Valley looking for work," Greaves said. "Allegedly, Clint Palmer, to get the job, killed the two Navajo sheepherders, and that's what allowed him to start working for Harry Goulding. Now whether or not that's actually true, we' don't know."
What is known for sure is that Palmer murdered two other people whose bodies and skulls were recovered right after it happened.
It started as a classic "Old West" dispute. Palmer moved Goulding's sheep into territory where former sheriff Bill Oliver already had cattle.
"Fifteen hundred head of sheep would come through, they would graze the grass down to nothing. There was a conflict over forage and over access to water," Greaves said.
---
The arc of the story was such that I just felt it was a story that had to be told, like it was a piece of American history that would be lost if somebody didn't tell it.
–C. Joseph Greaves, author
---
Palmer shot the former sheriff, and then he caught up with his grandson Norris Shumway. The boy had spent the night in this rock shelter. He inscribed his name on the rock and the date: February 28, 1935. Did Shumway know trouble was coming?
"The next day, Clint Palmer rode up on horseback, actually on (Shumway's) grandfather Bill Oliver's horse, and shot Norris Shumway to death … took an axe and decapitated him," Greaves said.
Palmer and the girl soon fled to Texas and were quickly arrested. Lottie Garrett eventually married and lived to old age. Palmer spent the rest of his life in prison.
Greaves never could be sure the two skulls he found were connected, so he wrote it up as a novel. "Hard Twisted" is mostly fact, with a bit of speculation.
"The arc of the story was such that I just felt it was a story that had to be told, like it was a piece of American history that would be lost if somebody didn't tell it," Greaves said.
There's one final twist in "Hard Twisted." Back in 1935, the same edition of the San Juan Record newspaper that reported the murders of the ex-sheriff and his grandson also reported on the disappearance of artist-adventurer Everett Ruess — who has for decades been the most famous missing person in Utah.
Was Ruess Plamer's final victim? We may never know.
---
Photos
0 Pending Comments
Sorry, we are not accepting new comments on this story, but if you have more to contribute please email
newstip@ksl.com
Showing of 5 comments
Sorry, we are not accepting new comments on this story, but if you have more to contribute please email
newstip@ksl.com