SYRACUSE, Davis County — Val Chadwick Bagley might know a thing or two about bullying.
"We had a kid in our school who had a mental challenge," Bagley recalled to students at Syracuse Junior High. "So I thought it would be fun to tease him."
Luckily, Bagley said someone was quick to intervene.
"I got slammed into the lockers, and a kid says to me, 'Knock it off!' " Bagley said. "I am so grateful to that guy."
Bagley, a cartoonist for "The Friend" and "New Era" magazines and set-designer for Nightmare on 13th Haunted House, is now touring schools in Davis and Salt Lake Counties with an anti-bullying message.
During the presentation at the junior high, students watched a video where a student named Frank Shelley — who looks a lot like Frankenstein — is teased by schoolmates. Entering the school gymnasium Wednesday, Shelly gave students a simple message: "Don't be a bully. Don't be a monster."
The Layton man behind Utah's Frank Shelley knows something about bullying too. When 56-year-old Steven Duggar was born, forceps used for delivery were too tight around his head and squeezed his brain. As a result, Duggar has special needs. He said that at times childhood teasing was just as tough on family as it was on him.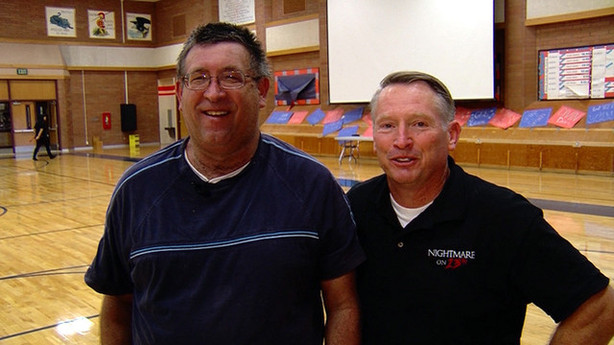 "It was really hard on me," said Shirley Moosman, Duggar's mother. "A lot of tears when he was little because of things that I would learn about and how they treated Steven."
Duggar and Bagley have become close friends. Both share interests in art and Halloween, which have fostered their relationship over 24 years.
"He calls me all the time, because he loves Halloween," Bagley said. "I work at a haunted house, and so he loves to get my pictures. He comes and poses in my yard with my Halloween decorations."
Bagley and Duggar are now the two presenters in Utah's new installment of the national anti-bullying campaign. "Don't Be A Monster" was founded in Austin, Texas by the owners of an area haunted house in 2012. Similar businesses in nine cities nationwide have gone on to sponsor the program since then.
"Everybody's different. We all have our own challenges," Bagley said.
Bagley and Duggar will share their message with around 8,000 students during the month of October, which also happens to be National Bullying Prevention Month.
Photos
0 Pending Comments
Sorry, we are not accepting new comments on this story, but if you have more to contribute please email
newstip@ksl.com
Showing of 19 comments
Sorry, we are not accepting new comments on this story, but if you have more to contribute please email
newstip@ksl.com