Estimated read time: 5-6 minutes
The last few years have been big ones for the home improvement industry. With the pandemic keeping everyone locked indoors, people had no choice but to take in the elements of their homes—both good and bad.
With those couple of years came lots of incredible design inspiration—but 2020 through 2022 is so last year. Adding to the newness of design inspiration, Architectural Digest predicts some trends for 2023 will come from TikTok creators.
If you're not ready to look to TikTok for inspiration, consider adding these eight forward-thinking trends into your digs this year.
Vivid colors
Neutrals, begone. After years of earthy tones dominating the scene, 2023 is the year to infuse a jolt of color into your home décor, paint, bedding, and more. "The all-white home decor is falling flat," trend tracker Lindsey Smecker tells Architectural Digest. "It's important to add contrast, warmth, and dimension to white spaces so as not to feel clinical."
Some tastes may prefer a luxurious palette of jewel tones, while others opt for soothing greens, classic blues, and warm browns. Whatever, you choose, all signs point to 2023 being time to embrace your bright side: the Pantone Color of the Year 2023 is a bold raspberry called Viva Magenta!
Built-in bench
If the word banquette conjures up images of sweaty, squeaky plastic booths, think again. Built-in benches have had quite a resurgence over the past few years and are continuing to trend. They are the perfect way to add seating and storage into a small kitchen, dining room, or even entryway. HGTV has a step-by-step process to building your own—and this one even includes storage under the seat!
Dark wood flooring
Light wood is still popular, but many are craving more depth and luxury that beachy light floors just can't provide. Dark wood floors are trending for 2023 and will bring a measure of richness to your home.
"Dark woods add sharp definition in a natural yet rich way—as long as you stick to woods that are naturally dark, such as walnut, as opposed to light woods that are stained dark," designer Cliff Tan tells Buzzfeed.
Giant Carpet One is your local destination for luxurious flooring. They can help you find a timeless hardwood or wood-look luxury vinyl plank to install and give your home that luxurious feel you want.
Unique or thrifted finds
As the saying goes, old is new again. Whether it be family heirlooms or thrifted antiques, the demand for beautiful and unique items is on the rise. Finding a piece that speaks to you as an individual can empower you to discover your personal style. Plus, shopping secondhand or repurposing old items is much better for the environment than participating in microtrends. According to the Environmental Protection Agency, more than 12,000 tons of furniture was created in 2018, and more than 9,600 tons were dumped in landfills.
While not every piece of furniture is salvageable, there are some great ways to reuse pieces in your home. Think barn wood as a shelf or frame, antique fabric as curtains, or old wood chairs with new patterned cushions.
Statement lighting
Statement lighting is the perfect way to add personality into a space. Replace your boring builder-grade light fixtures with something that pops, such as a textured pendant light or a mid-century sputnik chandelier. You could even go bold and throw in a marquee lighted sign in an unexpected place, like this one shown by Jaimee Rose Interiors.
Beach sand fire pit
Utahns are known to flock to California for a dose of seaside and sunshine. Why not bring a little bit of the beach to your backyard with a sandy fire pit? Your house will be the most popular hot-dog-roasting-spot on the block when visitors can kick off their shoes and put their toes in the sand. Additionally, Walden Backyards recommends sand at the base of your fire pit. They say it not only provides an additional layer of heat protection, but it distributes the heat equally. Win-win!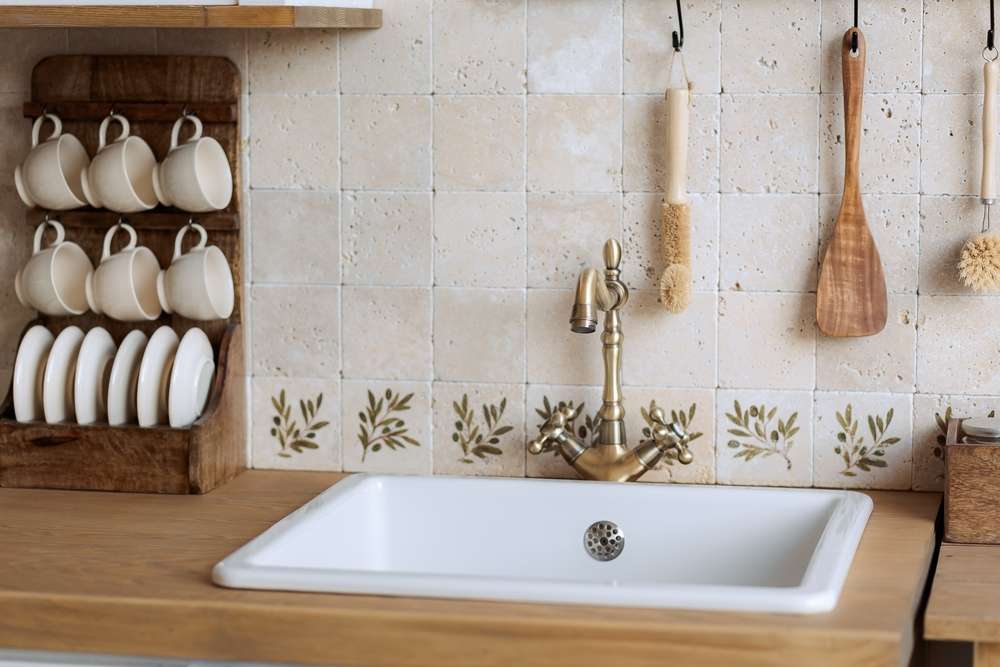 Natural tile
Texture, texture, and more texture is the name of the game for 2023. The Spruce says handmade tiles with natural variations, patterned tiles rough with tiny dots, or uneven tile is what most people will install in their homes this year. Whatever your fancy—luxe or natural—there's a tile for that.
Limewashing
Limewashing is predicted to be one of the "it" trends this year. Emma Kershaw writes in a recent Apartment Therapy article, "According to Yelp data, searches for limewashing is up by a whopping 79% year-on-year."
This, in addition to seeing it all over Pinterest and Instagram, is a surefire sign it's time to learn about limewashing. It's a special paint containing crushed limestone that creates chalky, textured walls to give rooms a lived-in feel. You can learn more about how to limewash from this Remodelista article.
Visit Giant Carpet One
Make your home a place you love to live. Head to Giant Carpet One for a range of stylish flooring options including tile, hardwood, carpet and more. They'll guide you to the perfect choice for your home, at the perfect price.
×