Estimated read time: 4-5 minutes
This archived news story is available only for your personal, non-commercial use. Information in the story may be outdated or superseded by additional information. Reading or replaying the story in its archived form does not constitute a republication of the story.
It's that time of year again; the shadows are getting longer, the days are feeling shorter and you're noticing a slight chill in the air — and maybe even in your teeth. When the mercury drops in the fall and winter, your teeth might do more than chatter — they might downright hurt!
If this sounds familiar, there are a few things you should know about your temperature-sensitive chompers.
Teeth sensitivity
If you have sensitive teeth, you're not alone. According to a study from the Journal of the American Dental Association, as many as 1 in 8 people experience teeth sensitivity. Sudden shifts in temperature — like an icy blast of winter air — can be painful because of what's actually going on in your mouth.
Temperature variations cause your teeth to expand and contract, which in turn causes microscopic cracks to form. While these cracks aren't a cause for concern, they can make your teeth more sensitive — especially when the temp changes quickly. According to Delta Dental, the temperature of your front teeth can shift as much as 120 degrees; imagine taking a big drink of hot coffee then stepping into a cold and windy day (are you flinching yet?).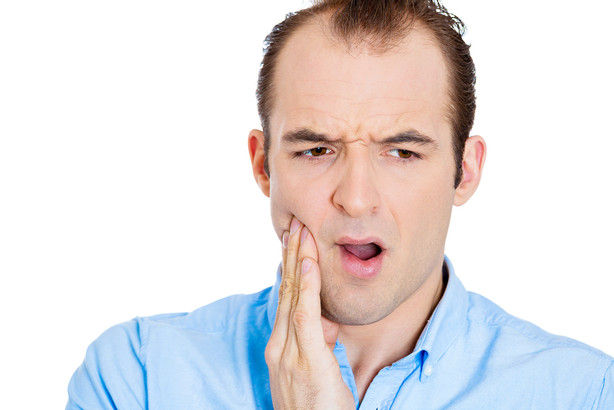 Hidden problems
If you're experiencing sensitivity, this might be completely normal, or it might indicate there's an underlying issue causing it. For example, tooth decay causes pain and sensitivity, especially in chilly temperatures. If one tooth is particularly sensitive to the cold, talk to your dentist right away to make sure you don't have a cavity (or one forming).
Other signs of tooth decay include pain when chewing or biting down, along with visible holes or staining on the tooth's surface.
According to Everyday Health, teeth sensitivity can also be caused by diet. Eating too many hard or acidic foods and chewing ice can be to blame. Additionally, using a toothbrush that's too abrasive or brushing too aggressively, gum disease, recent dental work or physical damage to the teeth are all underlying causes of tooth sensitivity.
Other factors
If the cold is bothering your pearly whites, it's possible it doesn't have anything to do with your teeth — or rather the problem didn't start there. Other conditions, including eating disorders, sinus infections and pregnancy can affect the health of your teeth and make them more sensitive to the cold weather.
Even stress can play a role in your oral health, as it sometimes causes bruxism (grinding and clenching), which can damage teeth and make them more sensitive.
If you have any existing medical conditions, always make sure you tell your dentist, as these may impact your oral health and treatment.
What to do
Sure, the cold isn't for everyone, but you shouldn't have to dread a temperature drop because of your aching teeth. According to University of Utah Health, your first and best defense against painfully sensitive teeth is proper oral hygiene. Make sure you're brushing twice a day with a soft-bristled toothbrush and fluoride toothpaste. Additionally, a fluoride rinse can help you with sensitivity, because fluoride strengthens tooth enamel, which protects the nerves.
Avoiding acidic foods (think citrus, carbonated beverages and sour candy), sugary foods and drinks and hard or very crunchy foods (hard candy, chips) can help prevent sensitivity. If you regularly use an at-home whitening kit, you may want to do so less frequently or use a bleaching solution with a lower concentration of hydrogen peroxide.
Talk to your dentist
Of course, the easiest way to combat painful, cold-sensitive teeth is by paying a visit to your family dentist. Your dentist will identify any underlying causes of sensitivity through an exam and x-rays, as well as determine whether an existing medical condition might be causing your pain.
Regardless of the cause of your sensitivity, the professionals at Stubbs Dental will know the best treatment approach for your temperature sensitivity so you're not left out in the cold. Call today to schedule an appointment.
×