Estimated read time: 5-6 minutes
This archived news story is available only for your personal, non-commercial use. Information in the story may be outdated or superseded by additional information. Reading or replaying the story in its archived form does not constitute a republication of the story.
This story is sponsored by Robert J. DeBry—more than 200 years of combined experience practicing personal injury law.
Utah is a bit of a bubble nestled among mountains, deserts, a great salty lake and national parks and forests. Although Utah offers plenty for the outdoorsy types, does it have much in the way of indoor entertainment? If you're fascinated at all by the bizarre, weird, random or unique, Utah definitely has some tricks up its sleeve. In fact, Utah's museums have some of the strangest artifacts and items on display in the country. Whether you like dinosaurs or pioneers, there's something interesting for everyone to see. Here are seven of the top items to view in Utah museums:
Shasta the liger
Born at Utah's Hogle Zoo in May 1948, Shasta lived an unnaturally long life for her kind — more than 24 years, according to theclio.com. After Shasta's death in 1972, the liger was preserved and brought to her final resting place: the Monte L. Bean Life Science Museum at Brigham Young University in Provo, Utah.
This museum went through large-scale renovations in recent years and is now one of the largest attractions in Utah County. Its popularity could be because of its extensive collection of plants and preserved animals, but don't discount that there is a real-life liger (not just a mythical creature) on display there.
Human leather
Have you ever wondered what human skin would look like if it was tanned into leather? Now you can satisfy your (macabre) curiosity by visiting the Hutchings Museum in Lehi, Utah. According to an article by Jennifer Wirth, the tanned leather was once the skin of Chauncey W. Millard, who was executed by firing squad in 1869.
Millard was executed for the murder of Harlan P. Swett at Saratoga Bay in Utah. Before his execution, Millard agreed to donate his body to science or, more accurately, to a doctor in the region hoping to use Millard's bones to benefit his own practice somehow.
Doctor Don Carlos Roberts removed the skin from the body and tanned it into leather, while the body and its bones were lost by accidentally being dissolved in lye. A harrowing story to go with a morbid artifact — but still worth a trip to the Hutchings Museum to see, however.
John Hutchings was a private collector who donated the bulk of the museum's artifacts to the public. From taxidermy to the infamous leather hide of murderer Chauncey W. Millard, there's an untold number of literal and figurative skeletons to see here.
Original ZCMI chandelier
Daughters of Utah Pioneers is an organization that certainly values history and honoring those who have gone before. As such, it has created the Pioneer Memorial Museum in Salt Lake City, Utah. Pioneer life was all about survival, making do with what was available, as shown by a unique chair on display made completely of antlers.
You can also see pioneer-era dental tools, the original ZCMI chandelier and even a wall-to-wall display of nothing but canes and walking sticks. As the song goes, pioneer children sang as they walked and walked, and walked and walked, and walked and walked (hence the walking sticks).
First Ladies of the White House dolls
Uintah County Heritage Museum has lots of pioneer-age artifacts, as well as the First Ladies of the White House Doll Exhibit. The exhibit features dolls representing Martha Washington to Nancy Reagan, and each doll's likeness was created by a Salt Lake City sculptor using porcelain heads and sawdust bodies. The outfits were then carefully designed and sewn patterned after an outfit that each real first lady actually wore. A Betsy Ross doll is also included.
Real dino tracks
Utah is known for dinosaurs because many fossils have been discovered in the state. One such discovery was made in St. George, Utah, at the Johnson Farm. What is now the Dinosaur Discovery Site replicates the Early Jurassic lakeside environment that existed about 200 million years ago, where dinosaurs roamed the lakeshore area.
Although it's hard to believe there ever was a large lake covering the desert landscape of St. George, you'll have to believe your eyes when you view real-life dinosaur footprints and corresponding fossils at this amazing museum.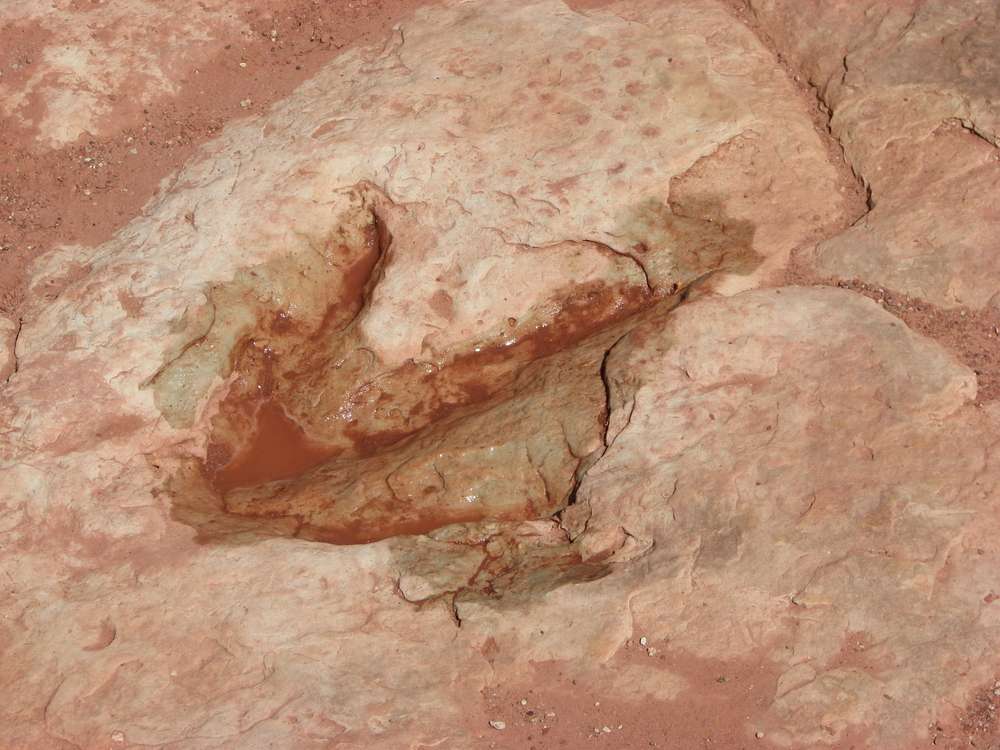 Gilgal Garden sculptures
Thomas Child was a contractor, stonemason, sculptor and gardener. His garden and sculpting work began in 1957, but after his death, his "Gilgal Garden" fell into disarray. The garden and its various sculptures would have gone away altogether without the formation of Friends of Gilgal Gardens (FOGG), a foundation that bought the land for public display through the help of donors.
Child used massive boulders to create sculptures both bizarre and symbolic. The garden exhibits disembodied body parts and even a self-sculpture where Child appears to be carved into a life-sized boulder with pants made of bricks. Located at 749 East 500 South in Salt Lake City, Utah, this free garden might not be a museum, but it's definitely full of history and some strange new things to discover.
A Utah giant pachyderm
A bulldozer operator was working on the Huntington Reservoir dam in 1988 when he unearthed some enormous bones. They proved to be the nearly complete skeleton of a hairless Columbian Mammoth that roamed the area about 10,000 years ago.
Unlike many finds, these bones were not fossilized but were preserved by being encased in icy cold mud. Today those bones are preserved in a special storage area at the College of Eastern Utah Prehistoric Museum in Price. Visitors to the museum today can see a replica cast from the original bones of the 15-foot tall beast.
While it's fun to find unexpected surprises or artifacts in a museum, it isn't fun to have unexpected medical expenses, especially when someone else caused them. If you need help in your personal injury case, call Robert J. DeBry today.
×