2 men arrested after allegedly stabbing 2 people at Provo apartment
January 24, 2015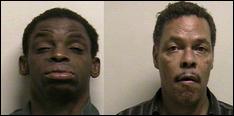 PROVO — Two men were arrested Friday evening after police say they broke into an apartment and stabbed two people.
On Friday at 5:17 p.m., officers responded to a report of a stabbing at The Boulders apartment complex where they located Markese Roberson, 37, of Salt Lake City, with fresh blood on his shoes, pants, jacket, hands and face, according to Provo Police Lt. Brandon Post.
Upon investigation, police learned that Gregory Anderson, 52, of Provo, allegedly accompanied Roberson as they kicked down the door of an apartment and confronted Catrina Rose, 43, of Provo, and Christopher Dixon, 44, of Salt Lake City.
Post said that Roberson and Anderson assaulted Rose and Dixon by punching, stabbing and briefly strangling them. Rose suffered stab wounds to her face and arms, while Dixon was stabbed near the right eye, in his back and his arms.
Nicole Uhlig, 35, of Provo, entered the apartment during the assault and Roberson allegedly punched her, causing her to fall to the ground, Post said. Rose fled the apartment, as Roberson and Anderson allegedly assaulted Uhlig, and found someone with a cellphone to call 911, Post said.
Rose and Dixon were transported to Valley Regional Medical Center by ambulance.
Post said Rose and Dixon are acquaintances of Roberson and Anderson and have had previous dealings with them.
A few hours after officers located Roberson, they found Anderson and arrested him, Post said. He was booked into Utah County Jail for investigation of attempted homicide and aggravated burglary. Roberson was also booked into the jail for investigation of attempted homicide, aggravated burglary, unlawful possession of a financial transaction card and for two warrants for aggravated assault and possession with intent to distribute.