Lori Prichard reporting
A family in American Fork is pleading for help to solve a medical mystery. Their 7-year-old daughter went from riding her bike and running races to barely being able to move her arms and legs.
Two years ago, Tiffany Searle was an active, happy, healthy little girl. Today she's confined to a wheelchair. The 7-year-old with bright eyes and big smile now has a body that hangs like a rag doll, muscles that she can hardly move, and no one knows why -- not her parents Scott and Valerie, not even her doctors.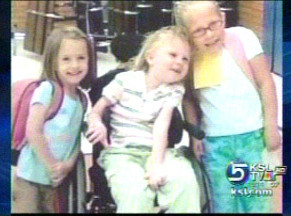 Scott said he was told, "I'm sorry to inform you but your daughter has something so rare that we don't even know what to test for."
Tests done on Tiffany read like a book of horrors: muscular dystrophy, cerebral palsy, polio, Guillain-Barre syndrome, lyme, MS, SMA, CMT, CIDP. All the tests are expensive and aren't likely to be paid by insurance. "It was a $3,000 test just for some blood work that was done. And the insurance company balked at that. These are things that they haven't wanted to help us with, and it has been very difficult," Scott said.
It's a medical mystery and difficult for even some of the best doctors in the country to diagnose. So far, 28 doctors have looked at Tiffany. But still, no one can pinpoint the problem that brought Tiffany from playing baseball to watching baseball.
"We think this problem started in her hips, where she got weak and she would just fall," Scott says.
Now, Tiffany needs constant care. Friends spoon-feed Tiffany lunch because she can't feed herself. All the Searles want is a diagnosis, just so they can know what they're up against and how they can fight it.
The Searles have six children and Tiffany is their youngest. Scott now has two jobs to help defray medical expenses while his wife, Valerie, is Tiffany's full-time caregiver. They're not sure what's next for Tiffany. Medically, there is no clear direction, they just feel as if they're going in circles.
E-mail: lprichard@ksl.com