SALT LAKE CITY — McKenna Bull, the BYU softball career leader with 974 strikeouts, didn't fan an opponent until the final out of the Cougars' NCAA regional opener against Mississippi State.
She didn't need to, though.
Bull tossed a complete-game one-hitter, and BYU pounded out 13 hits to shut out the Bulldogs 8-0 in six innings Thursday at Utah's Dumke Family Stadium.
"I think that's the least strikeouts I've had in my career at BYU," said Bull, who also holds the Cougars' all-time record in wins with 107. "I'm super lucky that my team was on point with their defense. We had some diving catches in the outfield and in the infield some stellar players. They definitely made my job a lot easier."
The Cougars (45-11) advanced to face No. 11 Utah (34-14) in a winner's bracket game Friday at 1 p.m. MDT. The Bulldogs (36-21) will face Fordham in an elimination game.
BYU outlasted Utah 4-3 in the teams' lone meeting this season, thanks to a pair of home runs by Libby Sugg.
Bull had a lot of help from her defense. Brooke Vander Heide made a diving catch on Mississippi State's Kat Moore that Bulldogs coach Vann Stuedeman called "a fantastic play," and BYU coach Gordon Eakin posited that it "should be the top play on ESPN tonight" in the third inning.
Shortstop Alexa Strid made a diving catch over the middle for an out in the sixth inning when Mississippi State tried to load the bases to preserve the shutout.
"That's the way this team is capable of playing," Eakin said. "We pitched well, defended great, got timely hits and just played a complete game today. We're capable of doing that; the key is to continue doing that."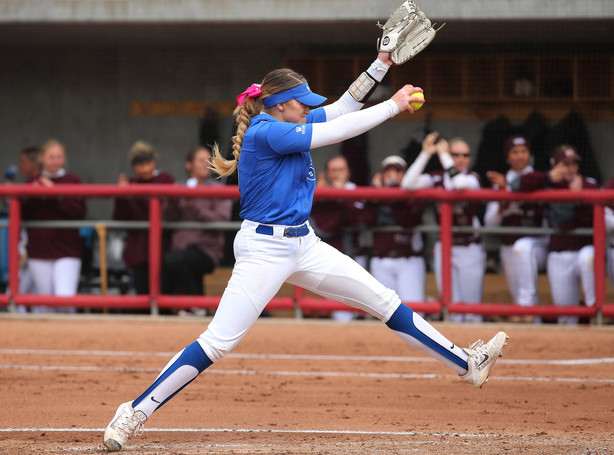 Lexi Tarrow went 3 for 4 with a double, a triple, an RBI and a scored to lead BYU's offense, and Brielle Breland was 2 for 3 with two RBIs. Libby Sugg went 2 for 4, and every BYU player in the starting lineup recorded at least one hit in the 13-hit slugfest.
The Cougars put up at least one run in every inning of the mercy-rule shortened game but the first and fifth.
"We were just seeing some tendencies; we all communicated really well for where she threw to us," Tarrow said. "We were being good teammates because we want to be successful. Knowing those patterns was good, and then we went up and 'see ball, hit ball.' Keep it simple. It was fun."
And though Bull didn't register a strikeout until fanning the final batter of the sixth inning, she did plenty of work to improve to 30-5 on the season. Bull walked just two of the 23 batters she faced, and improved her ERA to 1.19 on the season.
"That's key to take momentum against a great team," Eakin said. "McKenna needs that in a regional; she can't expect to strike out every hitter. With her talent and that kind of defense, it's key to winning in the tournament."
Strid struck a home run over the left-field fence in the bottom of the second inning for the first of two runs that gave the Cougars all the scoring they would need. Tarrow led off the three-run third with a double for one of four extra-base hits, and the 5-0 lead after three innings was too much for the Bulldogs to overcome.
"McKenna Bull really shut us down, hit her spots well, and was in control from pitch one," Stuedeman said. "They put a lot of balls in play, and made a lot of things happen on the base path. You have to really credit a good BYU team right there."
The Cougars took five runs and six hits off Mississippi State starter Alexis Silkwood before the Bulldog ace was pulled after 2.1 innings.
Cassady Knudsen fared a little better, but BYU still took three runs and five hits off the three-inning reliever before Stuedeman put in Holly Ward for the final out of her defense's game.
It was good enough that the Cougars even forgot about the 44-degree weather (plus a significant wind chill) in the May cold spell that swept the Salt Lake Valley.
"What was wrong with the weather?" Eakin asked, chidingly.
Added Stuedeman: "It gets cold in Starkville; we just don't get the snow. We've played in 30 degrees and have had teams from the north come and say they don't want to play. In February, it can be cold."
Utah 10, Fordham 0
At Utah, Katie Donovan and Hailey Hilburn combined on a two-hitter with six strikeouts to help the Utes roll to a five-inning win over the Rams (45-16).
Hannah Flippen was 3-for-3 with two RBI and a run scored for the Utes, which jumped out to an 8-0 advantage with a five-run second.
Photos
0 Pending Comments
Sorry, we are not accepting new comments on this story, but if you have more to contribute please email
newstip@ksl.com
Showing of 3 comments
Sorry, we are not accepting new comments on this story, but if you have more to contribute please email
newstip@ksl.com