SALT LAKE CITY — For the third-straight year, Gonzaga men's basketball will have a pretty sweet season.
But it wasn't without a little drama — and a big helping hand from Gonzaga's 7-foot freshman backup center.
Nigel Williams-Goss had 14 of his team-high 20 points in the first half, and Zach Collins scored 12 of his 14 points after the break to help the top-seeded Bulldogs to a 79-73 win over Northwestern Saturday afternoon at Vivint Arena for their third-straight Sweet 16 berth.
With the win, Gonzaga became the first No. 1 seed to punch its ticket to the Sweet 16, after No. 1 overall seed Villanova lost to Wisconsin in the East region Round of 32.
"It was a great basketball game," Gonzaga coach Mark Few said. "There was a lot of different runs there. We knew coming in that Northwestern had a lot of fight in them. And they just had kind of a spirit of a winner. And we talked about that at halftime. And I thought our guys did a good job of absorbing their runs and then making runs of our own. And we basically just survived and hung in at the end. That's what this tournament is all about."
Williams-Goss made just 1 of 9 from the field in the second half, as Northwestern erased a deficit as high as 22 points to pull within nine twice in the waning moments.
Collins scored 12 points — plus two blocks for good measure — in the second half to help the Zags (34-1) hold on. Jordan Matthews finished with 14 points and seven rebounds.
"I was pretty mad at myself about that first half," said Collins, who also had five rebounds. "I didn't think I was being aggressive. My job is to come in and bring energy, and I don't think I brought that energy in that first half. I just told myself you've got to come in and do your job and be confident."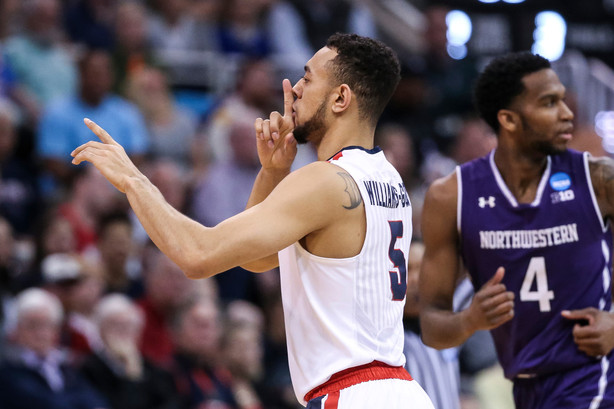 Without Collins' effort, it might have been a different ballgame.
"Zach was phenomenal tonight," Williams-Goss said. "He had everything working. He was hitting free throws, he was delivering for us down low. We stressed our balance all year.
"Tonight was Zach's night. I think, again, just a credit to our balance and our team."
Vic Law wouldn't let the Wildcats' first NCAA tourney bid die without a fight. The redshirt sophomore had three 3-pointers after the break, and punctuated a 6-0 run to pull Northwestern (24-12) within its smallest margin since early in the game, 63-58 ahead of the final five minutes.
But during the run, Northwestern coach Chris Collins argued for a goaltending call after one of Gonzaga's blocks came through a hand in the rim, and received a technical foul. Williams-Goss hit the two free throws, and the Zags regained the momentum.
The NCAA released a statement following the game, admitting the initial goaltending call was missed but also saying the technical foul was rightfully assessed to Collins for reasons beyond the initial play.
"Replays showed the Gonzaga defender violated this rule, which should have resulted in a scored basket by Northwestern," the organization said in a statement. "Subsequently, with 4:54 remaining in the game and based on bench decorum rules outlined in the rules book, a technical foul was assessed to Northwestern coach Chris Collins for coming on to the floor to argue the non-call while the ball was in play."
The play was big, but so were several other moments in the game, Few said. That included the Wildcats' near-comeback, which created a nervy final 10 minutes for the Zags.
---
Zach was phenomenal tonight. He had everything working. He was hitting free throws, he was delivering for us down low. We stressed our balance all year ... Tonight was Zach's night. I think, again, just a credit to our balance and our team.
–Gonzaga star Nigel Williams-Goss
---
"I wouldn't put it all on the technical," Few said. "I would put it on Northwestern making some nice adjustments on our switch defense, and their guys stepping up and hitting big shots.
"They had guys make big plays."
Gonzaga's start was impressive.
Williams-Goss scored twice and had two assists on the Zags' first five buckets as the top-seeded team in the West jumped out to a 13-6 advantage over the upstart Wildcats in the opening five minutes of the game. Matthews hit his second 3-pointer to cap a 10-0 run and give Gonzaga a 16-6 cushion with 12:54 remaining in the half.
Williams-Goss' alley oop to Johnathan Williams cemented a 16-4 run in the first half for the Zags, and put the WCC powerhouse in firm control with a 38-20 halftime lead.
"At the end of the day, we just competed," Williams-Goss said. "I think that's what it boils down to. You can have whatever game plan you want, but at the end of the day, you have to compete."
But that was before Northwestern rallied.
Related Story
Law scored 15 of 18 points in the second half to pace Northwestern, and Bryant McIntosh had another 20 and six assists for the spirited Big Ten team playing in its first-ever NCAA Tournament.
"I'm really happy to get these guys into the Sweet 16," Few said. "It's a great week. And obviously we're hoping and planning for more."
Photos
Related Stories
0 Pending Comments
Sorry, we are not accepting new comments on this story, but if you have more to contribute please email
newstip@ksl.com
Showing of 0 comments