PROVO — Let's start with a riddle.
How do you turn a 12-point halftime lead and a near-60 percent shooting performance into an eight-point loss?
With 29 turnovers, as the BYU women's basketball team learned Thursday night.
Alexys Swedlund scored 10 of her team-high 19 points in the second half, and Washington State rallied from a 41-29 halftime deficit to stun host BYU 72-64 in the opening round of the Women's NIT at the Marriott Center.
Caila Hailey added 17 points and four rebounds for the visiting Cougars (13-19), who advanced to face Wyoming in the second round Saturday.
"It was great season, but I don't know what happened in the second half," BYU coach Jeff Judkins said. "We were really flat, and I think more mental than physical. We just didn't guard them; they scored four baskets on layups, and they didn't do that all first half."
Makenzi Pulsipher led BYU (20-12) with 23 points and three assists, and Cassie Broadhead added 14 points, six rebounds and five assists for the Cougars, who jumped out to a 22-11 lead after the first quarter.
Pulsipher, one of four seniors on BYU's roster, ends her BYU career as part of a team that advanced to five postseason tournaments, including three NCAA tourney invitations and a spot in the Sweet 16 as a freshman in 2014.
"We came out strong, which was a good start for us. We've had games where we weren't strong in the first half," said Pulsipher, who went 3 of 10 from 3-point range and added three assists. "But the downfall is you get complacent, and I think we came out with less fire in the second half. We knew what we needed to do, but it's a fine line of knowing it and doing what you need to do."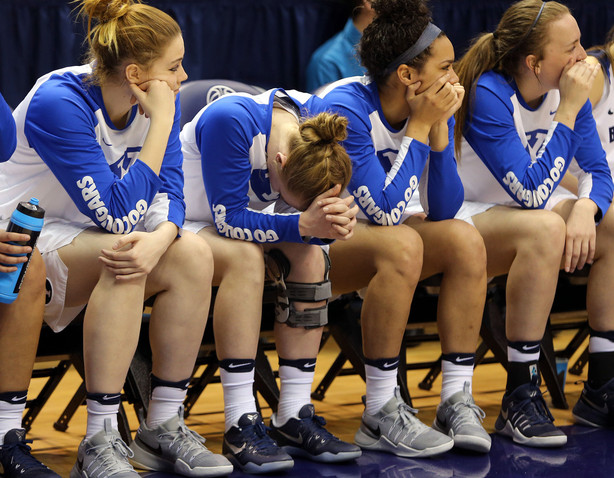 Fellow senior Kalani Purcell supplied eight points, nine rebounds and seven assists for BYU, and freshman Brenna Chase finished with six points and two steals.
Broadhead drained a wide-open 3-pointer from the left corner to give BYU a 15-5 lead midway through the first quarter. The host Cougars made their first seven shots from the field, with a shot-clock violation being the only thing that could stop their offense.
Chase swished a triple ahead of the final two minutes of the quarter to go up 21-7, and BYU had a 22-11 lead after the first quarter.
The hosts shot an eye-popping 76 percent from the field in the first half, but turned the ball over 15 times en route to a 41-29 lead at the break.
"We came out and moved the ball together," Judkins said. "Then we just started standing. Maybe it's hard to do that for 40 minutes; more of the game is dribble-dribble, and that got us in a funk where we didn't execute well."
Those mistakes caught up with BYU in the third quarter.
Swedlund scored two to cap an 8-0 run to open the third quarter, cutting the visiting Cougars' deficit to three, 44-41.
BYU stayed ahead with a few clutch plays, notably Purcell's smooth jumper with 5:37 left in the third and Pulsipher's 3-pointer while the clock flashed 4:32 that paced a 10-1 run to surge the lead back to double digits.
Still, the visitors from Pullman, Washington, refused to go away — and eventually pulled ahead.
Washington State outscored the home team 28-17 in the third quarter as BYU attempted to tread water, then used a 15-6 blitz in the final period to put the game away.
Hailey capped a 12-2 run to pull Washington State within one, 58-57, after three quarters of play.
Swedlund tied the game at 60 points apiece just under four minutes into the final quarter, and Washington State ended the game on a 12-2 run to move into the second round, thanks in large part to 14 second-half turnovers and 26 points from them.
"You can't have 29 turnovers," Judkins said. "The boys found that out last night, and we found it out today. We take that away, and we win the game."
The host Cougars led for nearly 33 minutes of game time. But for the final 4:23, the visiting Cougars from the Pac-12 were in control, sending BYU's four seniors to a career-ending loss on their home floor.
"I'm sad that we have to end on a loss, but only two teams will leave happy at the end of the season," Pulsipher said. "Overall, I'm really happy and grateful for the opportunity I had at BYU. As an individual, I felt like I left everything on the court tonight.
"I played my hardest, and I don't have any regrets. That's all that I wished for."
Photos
0 Pending Comments
Sorry, we are not accepting new comments on this story, but if you have more to contribute please email
newstip@ksl.com
Showing of 0 comments