WEST VALLEY CITY — The first three fan-called plays in the history of the Indoor Football League were all forgettable for the host Salt Lake Screaming Eagles.
Quarterback draw for no gain. A run play that ended in a quarterback sack. Fumble recovered in the end zone by Colton Miles-Nash to give the Nebraska Danger a 7-0 lead without an offensive play (which was called by a coach, instead of the team-designed app).
Things didn't get much better from there, when the Danger blocked a punt on the next possession and Trey Wafford returned it 6 yards for a 14-0 advantage.
"This is the first time for a lot of the guys playing indoor football. We've got to get used to how the game works," former BYU tight end Devin Mahina said. "But obviously we can't start off with our first two possessions on offense ending in turnovers for touchdowns.
"Once we get prepared a little better, we'll come out better."
High-scoring and prolific on offense, Nebraska quarterback Derrick Bernard threw for three touchdown passes and ran for four more to help the Danger spoil the Screaming Eagles' inaugural home game in the Indoor Football League with a 78-47 win Thursday night at the Maverik Center.
Salt Lake quarterback Verlon Reed completed 19-of-30 passes for 182 yards and six touchdowns, including a scorching 43-yard play to Cy Strahm to pull the home team within 39-56 with 13:47 left in the final of four 15-minute quarters.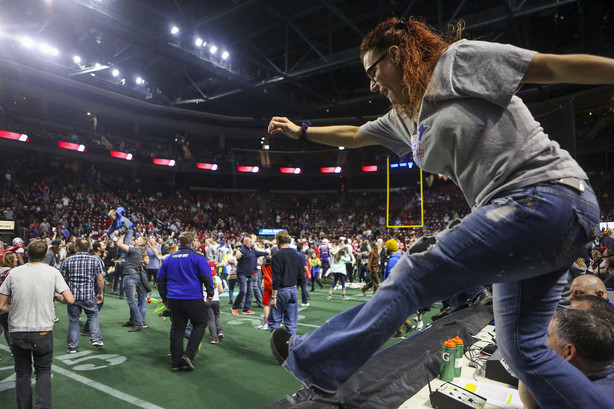 But the Eagles, who rely on fans and a complex series of algorithms with a smartphone app instead of an offensive coordinator, could get no closer.
"We've got a lot to learn, especially from the first turn possessions," said Reed, who threw two interceptions and lost the game-opening fumble recovered for a touchdown. "We can't turn the ball over like that. We'll learn from our mistakes, and get ready for our next game."
In the interim, there were a few good moments for the Eagles (0-1). Reed, who played collegiately at Ohio State, threw for more yards than Bernard, who finished with 121 yards passing and three touchdown. Reed also ran for 61 yards and a score.
Mahina caught a team-high six passes for 54 yards and a touchdown, a 7-yard grab with 3:34 left in the rout. Fellow wide receivers Derwyn Lauderdale and Juwan Dotson had two touchdown catches apiece for the Eagles, and Weber State's Alex Land and Utah's Visesio Salt both started on the offensive line.
On defense, former Utah State defensive lineman LT Filiaga notched three tackles, two off the team-high set by former Utah cornerback Davion Orphey.
There were also things that the indoor league's arena football cousin knew captivated the fans in the old days of the Utah Blaze: high-scoring offenses, lots of passing and receivers flying over boards and into the crowd.
"It was fun to get out in front of the crowd," Eagles head coach William McCarthy said. "We've got several guys who haven't played (indoor football) before, and several guys who haven't played in two-three years. For them, it was just good to knock the rust off and get out in the field."
Even Salt Lake co-owner Norm MacDonald, a comedic icon and one-time "Saturday Night Live" cast member, had fun initiating a field rush after the Eagles' first touchdown.
The only problem? The home team was down 14-6, and the lengthy chaos on the field led to a delay-of-game penalty after the Eagles missed the point-after attempt. Were it not for a pair of stalled early drives, McCarthy would've felt better about his first-year franchise that puts fans in the position of offensive coordinator.
"We had some early mistakes that caught up with us later on," McCarthy said. "If we can get those mental mistakes cleaned up, we've got a real good football squad. We just shot ourselves in the foot and beat ourselves early on."
Related Story
By the time Bernard zigged and zagged for a 24-yard touchdown run to put Nebraska up 70-39 with 9:06 left, most of the 8,191 fans in attendance — many of whom were calling plays in the first quarter — were heading for the doors around 10 p.m. on a weeknight.
The Screaming Eagles and their co-owner Project FANchise are trying to do something different with sports, which is commendable. But the IFL franchise wants to be more than a flash in the pan in a market that has seen multiple iterations of indoor football.
The best way to get a new population interested in a team turned out to be pretty simple. In the immortal words of former Raiders owner Al Davis: Just win, baby.
For that, Salt Lake will wait at least another week.
"We scored some touchdowns, so we were doing something right," McCarthy said. "We had some good plays, and some good execution. It doesn't really matter who is calling it; we just have to be able to execute the plays."
Photos
Related Stories
0 Pending Comments
Sorry, we are not accepting new comments on this story, but if you have more to contribute please email
newstip@ksl.com
Showing of 2 comments
Sorry, we are not accepting new comments on this story, but if you have more to contribute please email
newstip@ksl.com