SANDY — Real Salt Lake's minor-league affiliate Real Monarchs has a new head coach.
And it's a familiar name to fans of top-class soccer in America.
Former New York Red Bulls head coach Mike Petke was named head coach of RSL's third-division USL affiliate Thursday, as first reported by RSL broadcaster Brian Dunseth on his Sirius XM satellite radio show.
"I've had a couple of opportunities since I left my last position, and it was just something that didn't feel right," Petke told Sirius XM radio. "I'm not the type of person who just jumps in to something to have a job.
"I need a criteria for what an opportunity can bring me ... It really checked every box for me. Timing is everything, but more importantly, it's the right fit and the right opportunity."
Petke replaces Monarchs original coach Freddy Juarez, who was promoted to RSL assistant coach Dec. 6 after guiding the franchise from its inception. Juarez, the former director of RSL's Arizona academy, replaced outgoing RSL coach Richie Williams.
The Monarchs went 17-27-14 in three seasons under Juarez, including a narrow miss at the USL playoffs in 2016.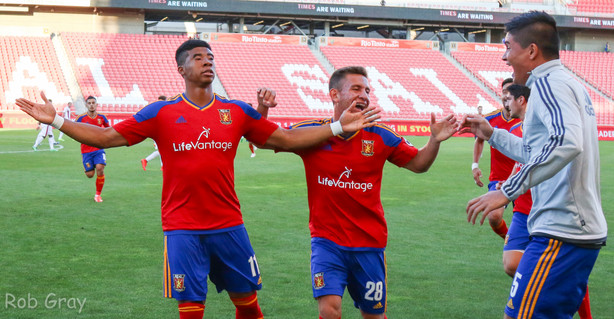 In Petke, the Monarchs have an established veteran of American soccer. A former player for the New York/New Jersey Metrostars beginning in 1998, Petke played 12 seasons for four clubs in Major League Soccer, beginning and ending his career in New York and with the re-branded Red Bulls.
After retiring with the Red Bulls following the 2010 season, Petke was immediately added to the coaching staff and ascended to the head coaching job in 2013, before leading New York to the Supporters' Shield given to the MLS team with the best overall record.
"There are so many things that I would've done differently, and that I've justified in my mind," Petke said. "But one of the biggest things that I took away ... was that I got thrown to the lions without a complaint.
"To me, this is about going back and making my bones a little bit. I'm excited about this."
Since being fired in January 2015 by the Red Bulls in an unpopular move to the club's fanbase, Petke has worked as a television broadcaster and the director of coaching for the New Jersey State Youth Soccer Association.
Now, he's back in coaching — and Real Monarchs have a veteran of the top-flight American soccer scene.
"It was about the right opportunity," Petke said. "If this wasn't the right opportunity, I would still be hosting 'Counter Attack' with Brian tomorrow and the next day.
"It had to do with the right opportunity that was presented, and this was a no-brainer."
RSL adds top NASL goalkeeper — In addition, Real Salt Lake announced two additions to the first team Thursday.
The club signed former FC Edmonton goalkeeper Matt Van Oekel to a first-team contract Thursday. The 30-year-old Van Oekel was named the 2016 goalkeeper of the year in the second-division North American Soccer League, after leading the Canadian side to a 15-6-8 record with 16 shutouts.
Van Oekel replaces backup goalkeeper Jeff Attinella, who was selected in the 2017 expansion draft by Minnesota United FC. Attinella was subsequently traded to the Portland Timbers.
RSL also added Pac-12 co-player of the year Jose Hernandez of Cal to a homegrown player contract. After being named Pac 12 freshman of the year in 2015, the RSL-Arizona alumnus was a third-team All-American and made two guest appearances with the Monarchs in their inaugural season.
Photos
0 Pending Comments
Sorry, we are not accepting new comments on this story, but if you have more to contribute please email
newstip@ksl.com
Showing of 3 comments
Sorry, we are not accepting new comments on this story, but if you have more to contribute please email
newstip@ksl.com