KSL Team Coverage
Today Utahns turned out in large numbers to both criticize and praise President Bush.
It was a large crowd at Washington Square today, numbering in the thousands to be sure; and they were united in their condemnation of the policies of the Bush Administration. People began showing up about 10:30 this morning and filled a good portion of the west side of Washington Square.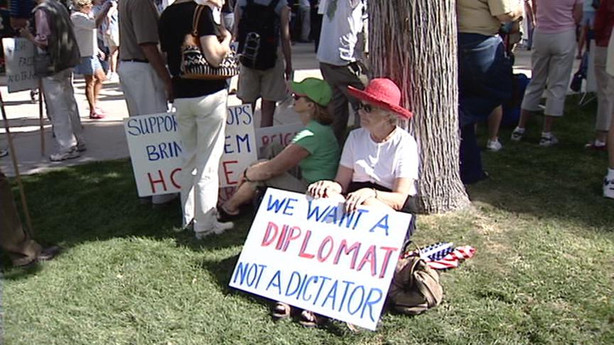 Speakers alternated with music. In the audience were old and young, a broad cross section of people, including some veterans. On their minds were issues ranging from the war, to fiscal policy, to the environment and stem cell research. The common thread was unhappiness with the President and his policies.
Garth Pellett, Sandy Resident "I disagree with much of what the Bush administration is doing, with the war, with illegal wiretaps, with the taking away of the constitutional freedoms of the American people."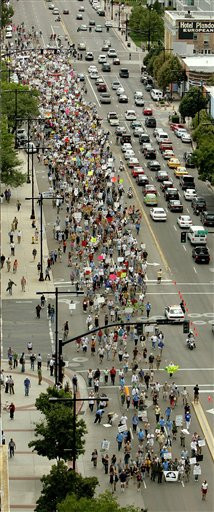 Mary Johnson, Salt Lake City Resident: "I think each person here thinks they are making a statement, or else they wouldn't have come. And I think that's important that you feel you are doing something. That's why I'm here. I need to do something."
Claude Lewis, West Valley City Resident: "Basically, I don't think we should be there because I thought we should have been in Afghanistan in the beginning anyway. I think this is a grudge war against Saddam Hussein because he tried to murder his father."
Nancy McCormick, Salt Lake City Resident: "It's sad. It's just sad what's going on in our country. We're making more enemies by far than we did before the war."
Some, like Nancy McCormick, said they'd never turned out for a protest before today.
Led by Salt Lake City Mayor Rocky Anderson, protesters marched from City Hall to the federal building to present a symbolic indictment against Bush, Congress and the president's administration, alleging such "crimes" as failure to uphold the Constitution, abuse of power and failure to promote the general welfare of Americans.
"Our children and later generations will pay the price of the lies, the violence, the cruelty, the incompetence and the inhumanity of the Bush administration and the lackey Congress that has so cowardly abrogated its responsibility and authority under our checks-and-balances system of government," Anderson said.
Most of Anderson's 35-minute speech focused on criticizing the Bush administration for its initial invasion of Iraq and did not address what the administration's current policy should be, only insisting that Bush begin telling the truth.
The crowd frequently chanted "Rocky" as it held posters that said among other things: "Iraq: Another Vietnam", "Stop Israeli Terrorism" and "We protest because we're patriotic."
Anderson and protest organizers had come under fire from Republicans for protesting during Bush's visit, with Sen. Orrin Hatch, R-Utah, apologizing to the Legion for the protests. The state Republican Party also ran radio advertisements encouraging Utah residents to leave messages with the mayor expressing their displeasure. The mayor's office had to hire three temporary workers to handle the phone calls.
"A patriot does not tell people who are intensely concerned about their country to just sit down and be quiet; to refrain from speaking out in the name of politeness or for the sake of being a good host; to show slavish, blind obedience and deference to a dishonest, warmongering, human-rights violating president," Anderson.
Many protesters also called Bush racist and advocated that the country abandon capitalism in favor of socialism.
But the focus was on the war in Iraq.
Carl Brown, 60, held a sign saying "Army veterans against the war."
"People who oppose the war and are demonstrating shouldn't be looked down on as weirdos and wackos and unpatriotic," Brown said.
The certified public accountant said he thinks troops should gradually come home over the next six months to a year.
As throngs of protesters marched down State Street, the main thoroughfare through the Salt Lake valley, many cars honked their horns in support and crowds gathered on sidewalks to cheer the protesters on.
But Kim Watson of West Jordan followed protesters with a bull horn saying Anderson is a liar and that America is doing the right thing in Iraq.
"It's about protecting our way of life for future generations so my kid doesn't have to worry about going into a Pizza Hut one day and worry about being blown up like they do in Israel," she said.
One prominent voice missing from today's protest was anti-war activist Cindy Sheehan. Salt Lake City Mayor Rocky Anderson invited Sheehan to attend the event and Sheehan accepted. However, she is recovering from recent surgery and canceled.
There was a possibility Sheehan would send a taped message or appear through a video link. Government officials say it just didn't work out.
While Mayor Anderson was busy making his speech against Bush, many were in Liberty Park rallying for the President. Another pro-Bush rally is scheduled for this evening at the City-County building. It will be the 2nd Pro-Bush rally in Salt Lake City today.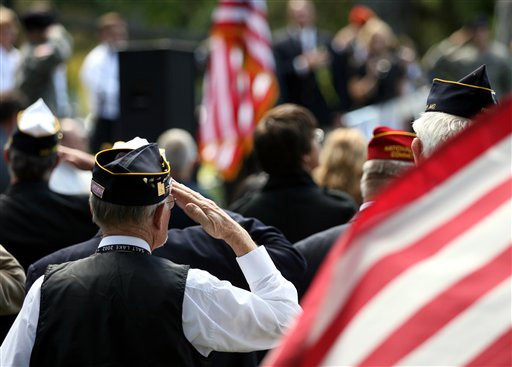 Earlier, about 300 people were in Liberty Park for the first rally, which they called a Freedom Rally. There was music, there were speakers, and there was plenty of support for President Bush and his policies regarding Iraq.
Utah Attorney General Mark Shurtleff spoke to those gathered saying he had to speak out against what Salt Lake City Mayor Rocky Anderson was doing blocks away at an anti-war protest.
Shurtleff says it's disrespectful for Anderson to be speaking out against the war on the same day that a Marine from his city is being buried.
Other speakers at the event include commanders from the American Legion in Utah for their annual convention. This morning the American Legion commanders held a "Support the Troops" rally on the east side of the Salt Palace. Most attendees were American Legion members and their families.
Several speakers greeted the crowd, including Carol Thomas Young, a mother who's son was killed in Irag. She said that Cindy Sheehan does not represent Gold Star families. Young said that Sheehan is "shaming her son's blood."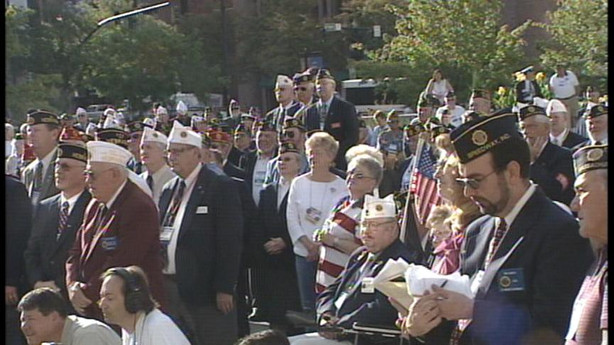 Several soldiers spoke on the importance of separating politics from supporting the troops.
Conan Heimdahl, Served In Iraq: "The decision and debate as to whether they should be there is before we send them. There should be a lot debate I think, and it should be debated hotly. Because we as soldiers don't chose where we go. We don't have the luxury of being political. Once you've made the decision, and the troops are on the ground. We need to do what ever is necessary to give them what they need to come home with honor."
Also, there was a lot of criticism for Salt Lake City Mayor Rocky Anderson, and this was all before Anderson spent close to 45 minutes blasting the President in his speech.
One veteran we spoke with says he couldn't believe Anderson protested the President during his last visit to Utah, and now can't believe he's doing it again with so many veterans in town.
Dana Meier, Korean War Veteran: "He's not supporting the veterans when he's doing this. We have those people over there in Iraq fighting for our lives, fighting for this country, and he's sitting there not in diplomacy, but Bush bashing. It's not my idea on how to solve the problem."
One speaker at today's rally said if Anderson would come to this one, maybe he would better understand what loving your country is really about.
At 6:00, groups supporting immigration reform will meet at Liberty Park.
Also at 6:00 pm a "Rock Against Rumsfeld" concert takes place at Pioneer Park. Pioneer Park will be the hot spot tonight for anti-Bush rallies.
Hours after that, at 9:00 tonight, Air Force One will touch down at the Air National Guard Base in Salt Lake City.