Four months ago, the Bush administration removed wolves from the endangered species list. Since then, 20 wolves have been killed in Wyoming in areas where they're considered varmints that can be shot on sight. It's rekindling an emotional debate between friends and foes of the fierce predator.
Sublette County is a long way from Yellowstone, where wolves were reintroduced a decade ago. But rancher Jim Urbigkit says children sometimes avoid school bus stops that are staked out by wolves. "There's always the risk of an attack on people, but there's going to be constant attacks on livestock," he said.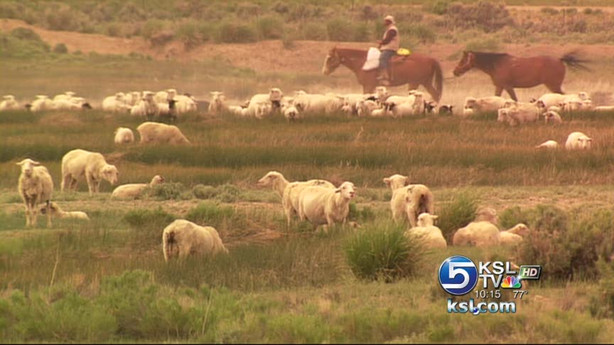 The gloves came off when the wolves were removed from the endangered species list. They can now be shot on sight in nearly the entire state of Wyoming. Jim's wife, Cat, runs a wolf-watch Web page, keeping track of wolf attacks on livestock and wolf kills by gunshots. There have been 20 in the free-fire zone in the past four months.
"This is a livestock county. We have a lot of livestock. And when wolves come into the livestock here and start killing livestock, the wolves have to be controlled. That's the only way to stop the killing," Cat said.
Environmentalists filed suit to re-list the wolves so they can be killed only when threatening livestock.
Kirk Robinson, with the Western Wildlife Conservancy, said, "The solution shouldn't be wholesale killing of them whenever they cross an arbitrary line."
Rancher Rex Hubbell said, "Well, if they'd rather eat wolf meat than beef, I guess that's fine, because that's what we're going to end up with."
Officials have given wolves protection just outside Yellowstone. In that corner of the state they're regulated and hunted as a trophy-game species. Wolf supporters want broader protection. "Wolves once inhabited large parts of the west, not just the national parks. And they're equally important to ecosystems outside the national parks," Robinson said.
Jim says, "You can't have a never-ending expansion of wolf numbers or you're going to have them in downtown Salt Lake."
Federal agencies have been killing similar numbers of wolves for several years when they threaten livestock. The difference now is that civilians are doing the shooting, with very few rules.
By the way, we now know more about the fate of Wolf 253. He's the most famous of the Yellowstone wolves, the one with a limp that once came to Utah. Wolf 253 was believed to be part of a pack preying on livestock and was shot the first day the restrictions were lifted. A Wyoming rancher told KSL News his pelt is now hanging in a ranch house in Sublette County.
E-mail: hollenhorst@ksl.com
Related Links