SALT LAKE CITY — When shots are fired an officer's first line of protection is a bulletproof vest, but many bulletproof vests worn by Utah law enforcement officers are expired and worn out.
Some vests are held together by safety pins, and other are still being worn five years after their expiration dates.
"It's (a safety pin) holding my panel in place. Without it, my panel would slip out and I'd have no protection," said Deputy Jonathan Mangum of the Carbon County Sheriff's Office.
Most police vests have a manufacturer expiration date of five years. At the Carbon County Sheriff's Office in Price, eight SWAT vests and 10 patrol vest are expired — some are more than 10 years old.
"It's like the milk in your fridge. Yes, they tell you it was made on this date and you shouldn't drink it after that. Sometimes it's good, sometimes it's not," said Lt. Jason Llewelyn of the Carbon County Sheriff's Office.
Jessi Adams' husband is the only overnight deputy in Carbon County, and he wears an expired SWAT vest.
"I know he's going out there and he's not as protected as he should be," Adams said. "It makes me crazy, because there is no reason he should not be properly protected."
Just how protected are officers when they're wearing expired vests?
Range master Nicholas Roberts from the Unified Police Department shot an expired vest four times as a demonstration.
"You can see where the thread broke underneath, but it did stop all four rounds," Roberts said.
Related Story
The vest he shot expired in 1996 and it stopped the bullets, but Roberts said that does not mean the next expired vest will.
"I have shot vests that were 10 years old and they still work, and I've shot vests that are seven years old and they've failed," Roberts said.
As a board member for the National Institute of Justice, which researches ballistics body armor, Roberts said research shows the vests break down as a result of heat, moisture and improper storage.
Until someone can design a longer-lasting vest, departments like the Unified Police Department in Salt Lake County — which just spent $150,000 on vests — will just have to continue forking over the money to replace them.
"There is legitimate concern on the part of the officers and all administrators on how we are going to continue to cover these ever-increasing costs," said Sheriff Jim Winder of the Unified Police Department. "But at the end of the day, we've got to provide protection."
Funding new vests is a challenge for many departments in Utah. Budgets are tight and new vests run anywhere from $600 to $3,000 each.
While many departments offer a uniform stipend, many officers say it's not enough.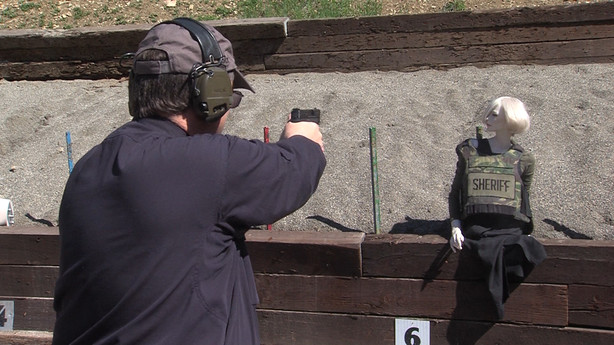 "I don't have enough money to buy a new cover for (his vest)," Mangum said.
Adams is taking the fight for more funding to lawmakers like Rep. Paul Ray, R-Clearfied, who is on the House Law Enforcement and Criminal Justice Committee.
"Maybe the state pony's up 25 percent, the counties pony up 25 and then we take the 50 matching from the (Department of Justice)," Ray said.
Earlier this year, the Carbon County Sheriff's Office didn't have the funds to replace its expired vests, nor did it meet the Department of Justice's Bullet Proof Vest Partnership grant, which would pay 50 percent of the cost. But it has come up with the money.
"We are going to use this grant money that we couldn't use for the radio equipment … we're going to use that for SWAT vests and patrol vest that the warranty is up on," said Chief Deputy Tom Stefanoff of the Carbon County Sheriff's Office.
The vests have been ordered, but it could take several weeks — if not longer — before they arrive. In the meantime, officers will continue to wear the expired ones.
"With these vests, we hope they hold up. And we need them to do that," Llewelyn said.
Currently, Congress is discussing whether or not to reinstate full funding for bulletproof vests. If that happens, departments could apply for a grant and potentially get 100 percent of the cost covered.
Photos
Related Stories
0 Pending Comments
Sorry, we are not accepting new comments on this story, but if you have more to contribute please email
newstip@ksl.com
Showing of 60 comments
Sorry, we are not accepting new comments on this story, but if you have more to contribute please email
newstip@ksl.com