Team coverage
The snowstorm that blasted the Wasatch Front Monday shut down the airport, cut power and snarled traffic across the state. One crash took hours to clear.
The storm hit hard midday. I-80 in Parley's Canyon was closed for hours. I-15 northbound in Utah County was shut for nearly eight hours after a crash involving about 40 vehicles.
On snowpacked roads, in white-out conditions, motorists on I-15 near the Benjamin exit ran into a chain reaction of crashes. The accident scene stretched for three miles.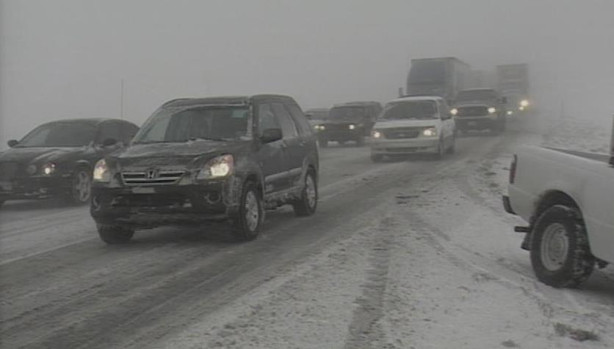 Twenty-seven people were rushed to hospitals. One person was seriously hurt, but there were no life-threatening injuries. A dozen semis and another 20 to 30 passenger cars and trucks jackknifed, crumpled, and were totaled.
Chief Scott Spencer of the Payson Fire Department said, "Some cars have gone under semis. Semis have tipped onto vehicles. We had one semi that had gotten hit and it ruptured the bottom of the tank. It was carrying crude oil, about 1,300 gallons."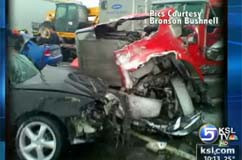 Hazmat worked all evening to contain the spill. Bronson Bushnell of Orem was right in the middle of it. He sent us photos and called himself one of the lucky ones.
The Utah Highway Patrol chased dozens of slide-offs and crashes along the Wasatch Front. Seven cars slid off I-15 one mile south of the Kaysville exit. No one was hurt.
UHP's Eric White said, "All it takes is for one car to go too fast in the snow, and then it causes other cars to lose control as well."
The Utah Highway Patrol had to call in extra troopers to handle all the calls. The UHP says between 10 a.m. and 4 p.m., there were more than 200 accidents. Most injuries were minor, but one person was killed in an accident near Grantsville.
Side streets were treacherous, as well. A downed tree blocked 1300 South and 1300 East. I-80 through Parley's Canyon and the Cottonwood canyons closed for a few hours. Highway 191 south of Moab is closed.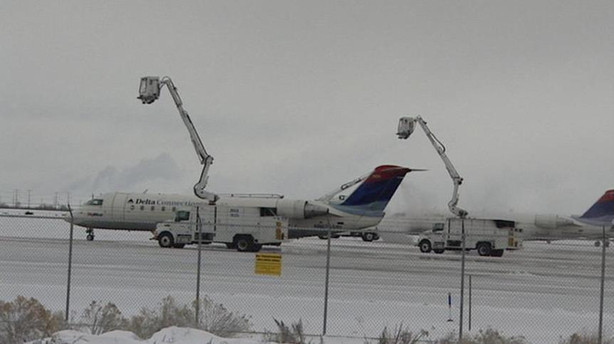 Salt Lake International Airport shut down for 45 minutes. Just after 11:00 Monday morning, all flights were grounded, and planes couldn't land for almost an hour. Joan McBride is from Australia. She was stuck in Salt Lake after being diverted on her way to Aspen, Colo. She said, "We started yesterday in Jackson Hole to go to Aspen, stayed at the airport until 4 o'clock everything was canceled. We had a night in Jackson. This morning we caught a 6 o'clock bus through lots of wind, sleet everything else you'd like to imagine."
It's back to normal now, but some travelers found themselves delayed.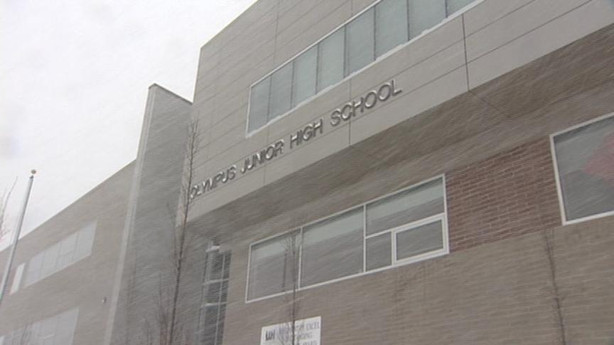 Thousands of people lost power because of the storm. Residents from Holladay to West Bountiful lost power Monday afternoon. Students at Olympus Junior High headed home early. They had been without power for at least four hours. A school counselor, Susan Harbertson, said, "In terms of office work, it was next to impossible because we didn't have computers or anything like that." Rocky Mountain Power is working to restore power to everyone but says it could take some time.
The blowing snow definitely increased the risk of avalanches.
Dew Hardesty of the Utah Avalanche Center says, "With lots of strong wind that we're going to be seeing today and such extreme snowfall rates, it just won't have time to bond and will easily be overloaded, producing natural avalanching. It could be long-running and dangerous."
For information on weather and road condition, click on the related links.
Photos
Related Links