SALT LAKE CITY — While others may sweat under pressure, Utah gymnastics' Tiffani Lewis shines.
Her collegiate career has been full of pressure situations, so having a leadership role both on and off the competition floor hasn't affected her like it might for others. Plus, she's "having more fun" and appreciating her last year of competitive gymnastics.
"Four years went by fast," she said.
Tumbling tot
Gymnastics has been part of Lewis' life since she could walk. At 3, she and her identical twin, Taylor, began tumbling through gymnastics classes. While her sister later decided to switch to cheerleading, Lewis found a passion for gymnastics and stuck with the sport.
The Las Vegas native built an impressive resume with club coaches Terry Gray and Tatiana Lewis of Brown's Gymnastics. Lewis competed in the all-around at the 2012 and 2014 Junior Olympic Nationals, finishing eighth and fifth. She was the Nevada state all-around champion in 2012 and won another state championship with wins on vault and floor in 2013. In 2014, Lewis swept the state titles in every event, including the all-around.
Her accomplishments earned her recognition from many colleges, but it was Utah's legendary program that impressed Lewis the most, especially its incredible reputation of never missing nationals since the program began in 1976.
"It just goes to show how amazing this program has been," Lewis said of the 10-time national championship Red Rocks.
Making them notice
Lewis made an immediate splash on Utah's roster her freshman year. Then-senior Tory Wilson suffered a season-ending injury during her first tumbling pass on floor at the Pac-12 championship. Coaches relied on Lewis to fill in for the team's top-ranked all-arounder on three events for the postseason.
In what some would consider an incredibly stressful situation, Lewis powered through her opportunity and scored career highs on vault, bars and floor in regional competition. It was as if she thrived off the pressure to fill the senior's void.
Before substituting for Wilson, Lewis hit 12-of-12 routines — routines without a fall. Her consistent, impressive performances helped her get the promotion. Lewis' hit record has now blossomed to 100-of-103 career routines. Her 97 percent success rate is one of the best on the team, a remarkable stat as she has the most routines performed on Utah's roster — 13 more than the next highest.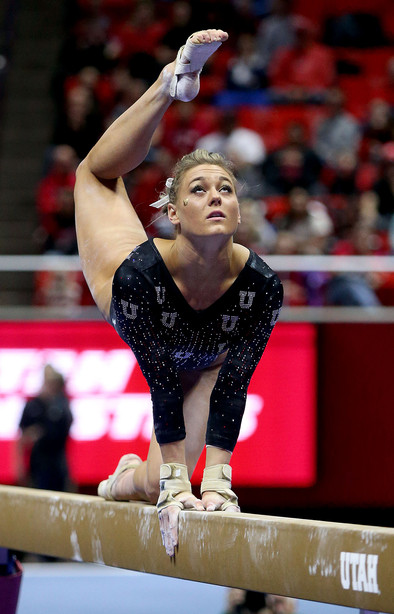 Experience is everything
As her senior season gets underway, Utah coaches are counting on Lewis' experience to shine and guide the team.
"She has a lot of experience," co-head coach Tom Farden said. "She's competed in Super Sixes, Pac-12s and regionals."
Lewis is now a decorated collegiate gymnast. She's an All-American on vault, two-time Pac-12 champion on vault and floor, and a three-time member of the All-Pac-12 conference team. Her load of experience inspired the team to name her to the Leadership Committee. Coaches also view her as a leader, listing Lewis in the leadoff position for the bars and floor lineups.
"If we start with a 9.90, we can hold 9.90s all through the lineup," Farden said of Lewis, who has career highs of 9.95 on bars and 9.925 on floor.
Both Lewis and the Red Rocks enjoy the senior being the lead in lineups. While Lewis says she doesn't feel any pressure from it and appreciates being mentally fresh going into a new event, her teammates say it takes pressure off of them when she starts.
"I like it. It's really fun," Lewis said. "I can feel the confidence from my teammates. I can't explain that feeling. It's some type of energy that happens."
Lewis thrives off the "indescribable energy." With a week of competition checked off for this season, she ranks No. 2 in the nation on vault (9.90), No. 6 on floor (9.90) and No. 22 on bars (9.85).
"Her (floor) tumbling pass is about as good as it was in 2016 when she won (the Pac-12 title)," Farden said. "For her to be in that form right now, (we're) super pleased."
Lewis is off to a great start, and just like the beginning of her career at Utah, when pressure situations get handed her way, she takes the most of the opportunity and thrives from it — as does the team.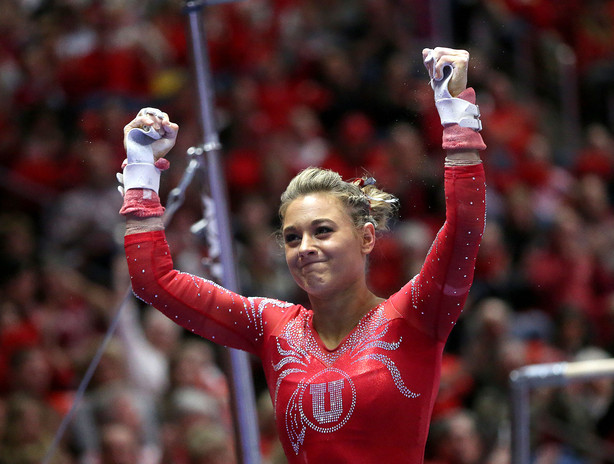 0 Pending Comments
Sorry, we are not accepting new comments on this story, but if you have more to contribute please email
newstip@ksl.com
Showing of 0 comments