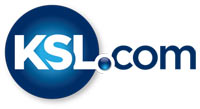 BYU basketball sticking with lineup after streak-snapping loss to Gaels
January 2, 2018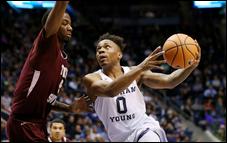 PROVO — For 11-straight games, the BYU men's basketball team has found the right starting lineup and mix of rotation players to come off the bench.
For nine of those games, the lineup worked, with a winning streak that included victories against the likes of Utah, Utah State and the WCC opener against Portland, among others.
So don't expect coach Dave Rose and his assistants to go back to the drawing board after a 74-64 overtime loss to Saint Mary's as the Cougars prepare for the first road trip of West Coast Conference play at San Francisco and Pacific.
"It's our best defensive group to start games, and I think that can change and adjust over the course of a season. But right now, it's the lineup we are comfortable starting," said Rose, whose team plays at San Francisco at 9 p.m. MST Thursday on NBC Sports California.
Of course, that doesn't mean there aren't changes that need to happen within the lineup.
While Elijah Bryant (16.7 points per game) and Yoeli Childs (18.1 ppg) have carried the main scoring load, the rest of the starters admit another offensive threat needs to step up.
"I feel like I'm shooting at a bad percentage right now, and for us to go further, I need to take some of the big shots," said junior guard Jahshire Hardnett, a 44 percent shooter who had 16 points and five assists against the Gaels. "The coaching staff feels like I am passing up too many shots when I am wide open. I'm overthinking things."
The Cougars' WCC road opener is as good a time as any to find more scoring options, said forward Payton Dastrup. The sophomore from Mesa, Arizona, has been amazed at the high draw of BYU-friendly crowds on the road, especially in LDS-heavy California during conference play, and he expects those crowds to keep showing up as the Cougars find less breathing room to put together an NCAA-worthy resume during WCC play.
"On paper, we aren't the ACC or the SEC or the Big 12, but there are players on every single team capable of going for a career night and throw off someone's ability to make the tournament," said Dastrup, who is coming off a season-high seven-point, six-rebound effort against Texas Southern.
"I'm excited to get it going because it's fun to go out and win on the road."
No Andrus … for a while
Among the updates Rose provided after practice Tuesday was that of center Ryan Andrus. The American Fork product hasn't played all season with a knee injury, and the Cougars expect him to have surgery on "the other knee" in the coming days.
How long Andrus remains out will be determined by the depth of the procedure, Rose said. But there is a chance he could miss the entire season and use a redshirt.
"We'll know when they do the procedure if it's a short period or a longer situation that will force him to redshirt," Rose said. "We should know in a couple of days."
Dalton Nixon is "close" to returning to play, Rose added, but will likely miss the road trip to San Francisco and Pacific.
Braiden Shaw, who saw his first minutes after a foot injury against Saint Mary's, suffered a setback. The junior post from Eagle, Idaho, injured his ankle in practice and could return to the sideline for a significant amount of time.
Road warriors
BYU is 17-6 all-time against the Dons, including an 8-1 mark in Provo and a 6-4 mark in the Bay Area.
The Cougars have played some of their best basketball away from the Marriott Center in 2017-18, with a 5-1 mark outside of Provo that includes a 3-0 record in true road games.
"I don't know if there's any explanation," Rose said. "There are a lot of things I can't explain."