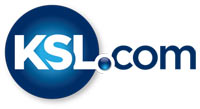 The Triple Team: 3 thoughts on Jazz vs. Clippers
December 1, 2017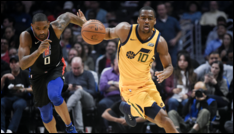 LOS ANGELES — Three thoughts on the Utah Jazz's 126-107 win over the Los Angeles Clippers from KSL.com's Utah Jazz beat writer, Andy Larsen.
1. Jazz ball movement leads to best offensive showing yet
The Jazz had 38 assists tonight, the second highest total of any NBA team in any game this season. For larger context, it would have ranked as eighth last year, so even over the course of 82 games, 38 assists is an insane total. The last time the Jazz got 38 assists was in 2010 (a hat tip to Ronnie Brewer and Ronnie Price, who led the Jazz in assists that game), so it's been a while.
But just as remarkable, or maybe even more, was just how egalitarian the Jazz's assist distribution was. Despite the huge assist total, no Jazz player ended up with more than six assists. Ricky Rubio, Donovan Mitchell and Joe Ingles had six. Alec Burks and Royce O'Neale had five. Derrick Favors four, Jonas Jerebko had three. And Thabo Sefolosha, Ekpe Udoh, and Tony Bradley had one each.
So not only were the Jazz sharing the ball to find open looks for teammates, but the player who was doing the sharing was changing at such a rapid rate that the Clippers' poor defense couldn't catch up. It really was an incredible performance.
Perhaps underrated in the assists calculation is the off-ball movement that has to happen to lead to most assists. That's one thing that the Golden State Warriors do better than any other team, and it's one of the biggest reasons they're so wildly successful.
The Jazz did some of that cutting tonight. I'm going to save the assists by Burks and Mitchell for their own sections later on in the Triple Team, but there were some of the great plays made by other players.
This is a smart pass by Rubio, but again, it's the cut that makes it. Jerebko realizes that there's some confusion as to whether Montrezl Harrell is guarding him or Austin Rivers. Jerebko takes advantage and just cuts to the rim; many players would just stay out in the corner and space the floor there.
Or this play. Favors gets a mismatch in the post, so he starts to take advantage of it. That means Harrell has to come over to help, and Sefolosha just swoops in to receive the pass and lay it up. Notice how Sefolosha curves his run so Favors can see him and deliver the ball?
It's just really nice basketball that the Jazz have been playing recently. Once the second-worst offensive team in basketball, they've worked their way up to 17th behind this spacing-and-ball-movement lineup that's been the second-best offense in the league over the last 10 games. Yes, they've played many bad defenses in that stretch. But to take advantage is still really quite positive.
2. Alec Burks leads the Jazz with 28 points
Whoa, it's the return of AB! I'll admit: I had totally written Alec Burks off as an impact player, but he had the best game of his entire career tonight to lead the Jazz on the offensive end.
He scored 28 points on 11-17 shooting, the third-highest point total of his career. But this game was better than those 30-point efforts because Burks added secondary skills. First of all, he hit the 3-point shot, shooting 4-6, to be precise. That's only the second time he's made four threes in a game in his career.
But we're not done. Burks added seven rebounds, helping the Jazz when they seemed weak on the glass early in the game, and then passed the ball with the aforementioned five assists.
And his defense. I wouldn't call it world-beating, but he mostly stayed focused on his man and didn't give up many off-ball lapses. He added three steals and even a block.
His decision making was very good, and judging by the curve of his usual performances, it was downright excellent. He passed the ball to open corner shooters for three when it was required, hit Favors on a lob, and found teammates in transition.
I also thought it was encouraging how he took his shots. Burks has always had a history of taking bad shots: jumpers early in the shot-clock, ill-advised heat checks, etc. He avoided that tonight.
And coming into the game, Burks was shooting 12-of-35 on his layups, or 34 percent. I probably don't need to tell you that's a horrific figure for an NBA player shooting layups at the rim, and it was because of how frequently Burks found himself taking circus shots where he was stuck underneath the basket, or trying to finish around a good defender.
Tonight, rather than giving himself a tough look at the rim, he pulled up ahead of time, stayed within himself, and hit the short pull-up jumper from eight to 10 feet. He hit 4-5 of those tonight, meanwhile, shooting 1-2 on layups. Normally, I'd be against a player avoiding the rim to shoot more short mid-range shots, but clearly, Burks needed to change something up.
It was good timing because Jazz head coach Quin Snyder actually talked about Burks' finishing at practice today:
Burks unlocked the door, walked out, and grabbed the best game of his career. The Jazz outscored the Clippers by 30 points while Burks was on the floor. Well done.
3. Donovan Mitchell is the total package
Donovan Mitchell's box score stats stand out: 24 points and six assists is very nice. But the eye test on Mitchell was off the charts good tonight because of the sheer excellence and variety of plays that he made.
Let's go from least-to-most jaw-dropping among very impressive skills. Mitchell had five threes tonight, but they were of the pull-up variety, a shot that you see very rarely from rookies. Frankly, many veteran guards don't have the skillset to hit these shots going in both directions.
Then, the assists. Again, for someone who has played in 20 NBA games, you just never see these kinds of passes. This one has incredible finesse to pass it 30 feet over a defender:
And this one, to just draw the defense and know Favors will be there and deliver the pass on the money in traffic ... all of it is so nice.
Okay, then the dunks. Both of these evoked the same two-step reaction from me:
1. "Uh oh, Donovan took off from too far away..."
2. "Oh, oh my, no he did not! Donovan Mitchell can fly!"
After the game, Mitchell earned his share of fans on the Clippers. Much of what Austin Rivers said about Mitchell is unprintable here, but here's my best effort to translate:
"That little (player) is good. That dude's a rookie. He's crazy. He's the best rookie in the NBA. If you don't count Ben Simmons ... he's the best rookie in the NBA. Him and (Jayson) Tatum. He's the best rookie in the NBA, bottom line. That (player) is out there leading his team as a rookie. You know what I mean? He's got way more on his shoulders than a lot of the other guys, excluding Ben Simmons. Him and Tatum are impressive."
We're 22 games into the Donovan Mitchell experience. Savor it.