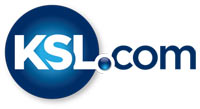 Juan Diego secures 3rd-straight state title with 45-20 win over Morgan
November 11, 2017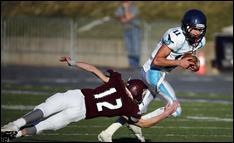 OGDEN — Juan Diego Catholic High School secured its third straight football title after defeating Morgan 45-20 in the 3A state championship game on Saturday.
"It feels as good as the very first one we've won here at Juan Diego," head coach John Colosimo said following his eighth state title victory. "It's a great group of kids, I'm just so damn proud of them. It's a great, great victory on their part."
Led by quarterback Zach Hoffman's 257 all-purpose yards and three touchdowns in the first half, Juan Diego built a commanding 31-14 lead that Morgan only lightly approached in the second half.
"Our offensive coordinator, John Williams, he decided to bring out the big guns for the first half," said Hoffman, who Colosimo rightfully deemed the MVP following the game. "We had a couple of trick plays that we had been practicing all week. We just didn't have anything to save, so we used it all in the first half, and it turned out really well for us."
The first of those trick plays came in the opening quarter, when Hoffman was on the receiving end of a wide receiver pass from Dallen Davis that went for 76 yards to the Morgan 5-yard line. Two plays later, Hoffman ran in his second touchdown of the day to put his team ahead 14-7.
The other came in the second quarter, when plus-sized running back Hunter Easterly positioned himself on the line for a pass pattern that was intended for a modest gain but turned into a 72-yard touchdown as he sprinted up the right seam uncovered.
"I came off the field and (Coach Williams) was like, 'I was expecting a 20-yard gain, not for you to get into the endzone," Easterly joked of his first receiving touchdown of the year. "It was more successful than we expected."
Later, Easterly's 7-yard touchdown run gave Juan Diego a 45-20 lead with 1:54 remaining in the game, and put the exclamation point on the state championship for the Soaring Eagles.
In a game in which they never trailed, the Juan Diego offense generated a total of 557 yards (319 rushing, 238 passing) while scoring on each of its four trips inside the redzone.
In total, Hoffman accounted for 378 yards and four touchdowns in the final game of his high school career. Meanwhile, running back Tristen Tonozzi also enjoyed a big performance, as the junior ran for 128 yards and a touchdown in a thoroughly dominant offensive performance for the Soaring Eagles.
"I always have 100 percent confidence in my team," Hoffman said. "I know that if we're doing our assignments, if we follow the game plan our coaches put out, there's no one we can't beat."
While the final score won't show it, the game might have been different had the Trojans limited their mistakes early in the game.
In a first half that saw Juan Diego jump out to a 17-point lead, Morgan's offense lost two fumbles in its first three possessions before kicker Carson Flitton missed a field goal that would have cut the deficit to 14 at halftime.
Fighting from behind during the entire second half, the Trojans' pass-heavy offense was limited to just 85 passing yards and 6 points during the final 24 minutes.
"Our defense was tough," Colosimo said. "They hung in there and battled."
With the win, Colosimo's all-time record moves to 176-42. A high school coaching legend, Colosimo's decorated career includes a playoff appearance in each of his 17 seasons, as well as eight state titles.
When asked if Saturday's game was the last of his career, Colosimo disclosed a knowing smile before responding: "It might be."