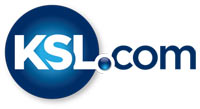 Bombs away: BYU cans 12 threes in season-opening win over Mississippi Valley
November 11, 2017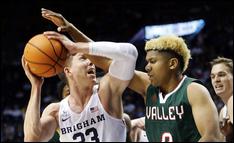 PROVO — One game into the season, BYU basketball coach Dave Rose hopes to have a different player step up each night in 2017-18.
During exhibition play, Jahshire Hardnett, Yoeli Childs and Zac Seljaas all had their moments. Saturday night was reserved for team captain Elijah Bryant.
Bryant scored a game-high 27 points, and BYU made 12 3-pointers, to cruise by Mississippi Valley State 91-61 in the regular-season opener Saturday night at the Marriott Center.
"I think that's just the offense," said Bryant, who also had six rebounds. "No matter whose night it is, guys are just going to find them and they'll make the shots. Tonight was my night; guys found me, and I was able to make the shots."
Offensively, Bryant played about as perfect as can be expected. The junior who started his collegiate career at Elon made 10-of-11 shots from the field, including an astounding 6-of-7 from 3-point range. He also added an assist and a blocked shot in 27 minutes of play.
"Tonight, Elijah was near-perfect in his offensive execution," BYU coach Dave Rose said. "I like the fact that that film is going out there … He was good, patient, aggressive, attacked the spots when it was time, and shared the ball really well. He had a great time."
TJ Haws supplied 14 points and five assists for the Cougars (1-0), who got 13 points, 10 rebounds and six assists from sophomore Yoeli Childs. Dalton Nixon supplied eight points, six rebounds and three assists off the bench for BYU, and gave his team a spark early when the Delta Devils (0-1) outrebounded the hosts 13-11 early to keep the game tight.
Rose called timeout, turned the huddle over to associate head coach Heath Schroyer, and inserted Nixon into the lineup.
The result was a massive spurt that put the game away.
"We try to focus on getting hits defensively," said Nixon, who recently returned from a two-year LDS church mission. "Keep those big, long guys off the glass and our guards like Eli and Yoeli can clean up the boards."
With the focus on defense, Zac Seljaas drained back-to-back 3-pointers around the 6:28 mark of the first half, giving the Cougars a 29-16 lead, and BYU used separate runs of 13-2 and 11-1 to take a 47-23 lead into the locker room.
The Cougars shot 50 percent from 3-point range in the first half: Bryant connected on 3-of-4 from deep, Haws was 2-for-3 and Seljaas made 2-of-4 3-pointers en route to 12 points, three rebounds and two assists.
Seljaas finished with 11 points on 4-of-9 shooting.
"I'm impressed with the way our guys handled the last few days," Rose said. "I thought the game tonight had a really good gameplay, and the guys executed it well against a really athletic team that likes to drive you and attack you one-on-one. Early in the game, they attacked us good, but we made some shots and stayed with what we were during and started to play pretty good offensive ball."
The Cougars shot 59 percent from the field, while holding the visitors from the Southwest Athletic Conference to 37 percent. Freshman Rylan Bergersen recorded his first official field goal in a BYU uniform, the Cougars' 12th 3-pointer of the game to go up 86-53 with 4:49 left in the game.
BYU travels to Princeton next Wednesday before returning next Saturday to face Texas-Arlington, which eliminated the Cougars from the NIT contention last season in Provo.