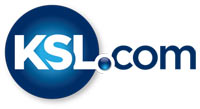 Box Elder blocks rival Bountiful's three-peat bid for 5A volleyball title
November 4, 2017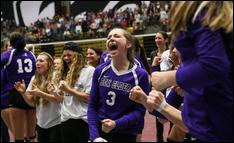 OREM — Twice in Northern Utah's Region 5 play, two-time defending state champion Bountiful swept Box Elder with debilitating results.
But when Andreanna Mckee's match-point kill went down the third time, it was all that mattered for the Bees.
Shayna Baugh had three kills and five blocks, and Mckee added 12 kills and six blocks to help Box Elder stun region rival Bountiful, 25-23, 23-25, 25-17, 25-27, 15-8 and win its first Class 5A state volleyball championship in 20 years Saturday night at Utah Valley University.
"We thought it was possible, but we knew it would be challenging," said Baugh, who paced the Bees' 19-block effort. "We planned on it going to five sets. Bountiful is the toughest team, but it all comes down to the team. I couldn't have done it without the team."
Annie Mecham dished out 40 assists to go along with five kills for Box Elder (24-3), and Emily Isaacson supplied 12 kills and two blocks.
"Our middles have been phenomenal, and Bountiful has such fast arm swings," Box Elder coach Kristine Harding said. "But tonight, she (Baugh) pressed the net and as quick as she blocked, she was ready to slam the ball down their throats."
After splitting the first two sets by identical 25-23 margins, Box Elder jumped out to an early lead when Emily Isaacson smashed a kill across the middle of the net for a 7-2 advantage to coast to the 2-1 advantage.
Annie Mecham setter's dump gave the Bees a 10-5 early edge. Box Elder rode that five-point lead in the third set through Andreanna Mckee's block that gave the Bees a 21-15 advantage en route to a 25-17 victory.
For the first time since 2014, the Braves faced an elimination set in the state tournament.
The Bees took a set off Bountiful in a postseason match for the first time since Timpview in the then-Class 4A state tournament in Orem.
"They needed one set to know that we could beat them," said Harding, whose team's only losses were twice to Bountiful and once to Woods Cross. "Anybody that would be two-time returning state champs are phenomenal athletes. But the pressure mounts once you take one set from them."
The Bees nearly ended it in the fourth set, when Baugh's kill smashed into the floor for a 25-24 match-point situation. But the Braves ended the fourth set on a 3-1 run to force a decisive fifth set.
"We planned on it going to five sets," Baugh said. "Bountiful is the toughest team, but it all comes down to the team. I couldn't have done it without the team."
Box Elder jumped out to a 9-6 lead on back-to-back points by Baugh, and Mckee's match-point thumper sent the Bees into a celebration that was two decades in the making.
"I'm excited. I'm on edge," said Baugh, a senior. "I'm really sad it's my last year. But I'm glad we could go out with a bang."
Brook Pe'a led Bountiful (23-5) with 17 kills and four blocks, and Brie Pe'a added 12 kills and three blocks. Bri Mortenson distributed 27 assists.