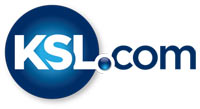 4A/5A/6A football quarterfinals roundup and highlights
November 4, 2017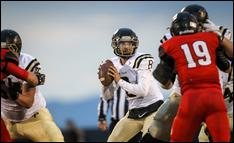 SPRINGVILLE — Garrett Lindsey booted a 26-yard field goal with 17 seconds left to lift the Red Devils to a 20-17 win over Alta in a Class 5A state quarterfinal Friday night at Springville.
All square at 10-10 at halftime, Alta snuck ahead on Zach Engstrom's 91-yard scoring spurt in the third quarter to give the Hawks a lead.
But Springville responded.
Ty Eriksson threw his second touchdown pass of the game, a 27-yarder to Ben Schreiner to leave the two teams even after three quarters.
Defense dominated in the final period, until Lindsey hit the game-winning kick to send the Red Devils (9-3) to Rice-Eccles Stadium for the third-straight year with a regular-season rematch against Lehi on tap.
Lehi 35, Woods Cross 7
At Lehi, Washington State commit Cammon Cooper threw for two touchdowns and ran for another to lead the Pioneers to a 28-0 halftime lead and roll into the 5A semifinals.
Carson Manookin caught a touchdown pass and ran for another for Lehi (10-3).
Corner Canyon 37, Highland 0
At Corner Canyon, Boise State commit Zach Wilson hurled a 49-yard TD strike to Jon Mitchell to open the scoring and the Charger defense pitched a quarterfinal shutout to advance to the 5A semifinals.
Conner Ebeling drained three field goals for Corner Canyon (11-0), which will make its first state semifinal appearance since 2014.
Skyridge 45, Jordan 43
At Skyridge, Jayden Clemons threw for three touchdowns and the second-year Falcons stopped a game-tying 2-point conversion with 39 seconds left to advance to the 5A semifinals for the first time in school history.
Baden Stambaugh hauled in two TD catches from Clemons, including an 83-yard toss that gave the Falcons (13-1) a 35-30 lead after three quarters.
Jake Shaver scored three touchdowns to lead the Beetdiggers. Crew Wakley, Jordan's star quarterback who threw a pair of touchdown passes, went down with an injury in the fourth quarter.
Class 6A Quarterfinals
Lone Peak 26, Weber 17
At Weber, Brock Jones threw a pair of touchdown passes to Cody Collins and the Knights took a 17-9 lead into the fourth quarter to hold off the Region 1 champion Warriors.
Weber (10-2) jumped out to a 9-0 lead on Carter Green's 57-yard touchdown run and a safety.
But Lone Peak (10-2) scored 17 unanswered points to take the lead for good on Jones' 5-yard TD strike to Collins in the third quarter.
East 67, American Fork 31
At East, Ben Ford and Xavier Spann ran for three touchdowns apiece to help the reigning 4A champion Leopards advance to the 6A semifinals against Lone Peak.
Dennis Feletoa and Hailame Feletoa each added a touchdown for East (10-2), which hasn't lost to an in-state opponent since a 49-17 setback at Bingham in Week 2.
Bronson Barron led American Fork with four touchdown passes.
Herriman 21, Pleasant Grove 3
At Herriman, Maeakafa Leakehe's 3-yard TD run gave the Mustangs a 7-3 halftime lead and the Herriman defense pitched a second-half shutout to cruise to the win.
Blake Freehand added a pair of second-half TD passes for the Mustangs (6-5), who will face top-ranked Bingham in the 6A semifinals.
Bingham 37, Syracuse 7
At Bingham, BYU recruit Brayden Cosper hauled in a 13-yard pass from Ryan Wood to give the Miners a 28-0 lead in the third quarter as undefeated Bingham rolled to the easy win.
Ty Metcalfe threw a 21-yard TD strike to Sawyer Larson in the fourth quarter to prevent the shutout for Syracuse.
Class 4A Quarterfinals
Mountain Crest 18, Dixie 17
At Dixie, Eli Wells hit a 21-yard field goal midway through the fourth quarter to help the Mustangs rally and stun Region 9 champion Dixie in St. George.
Preston Moore scored on a 3-yard run to give the Flyers (10-2) a 14-9 halftime lead in a game that featured five lead changes.
Josh Pulsipher intercepted Mountain Crest (11-1) to give Dixie a shot at the win with just over two minutes remaining.
Dixie star Hobbs Nyberg left the game with an injured wrist in the first quarter for the Flyers (10-2).
Orem 37, Desert Hills 17
At Orem, Cooper Legas found Puka Nacua for three touchdowns during a 34-3 run to open the game as the Tigers surged into the 4A state semifinals.
Enoch Fiso hauled in Legas' fourth touchdown pass of the night for Orem (10-2), and Peter Kenese scored on a 3-yard run.
Brock Parry threw a 21-yard TD strike to Noah Sewell, and ran for another score, to lead Desert Hills.
Stansbury 38, Ridgeline 7
At Stansbury, Silas Young ran for a pair of touchdowns to help the Stallions pull away from the Riverhawks.
Mitch Lindsey connected with Conner Mckay for two touchdowns for Stansbury (8-3), who will face Mountain Crest in a semifinal.
Sky View 35, Pine View 21
At Sky View, Jackson Siddoway threw five touchdowns passes to lift the undefeated Bobcats to a home win over the Panthers.
Mason Falslev hauled in two of Siddoway's three first-half scores for Sky View (11-0), who will face Orem in a semifinal.
Dallin Brown's 5-yard TD run pulled Pine View within 21-14 in the third quarter, but the Panthers could get no closer.