PROVO — Malia Nawahine didn't know what to think when Utah women's basketball coach Lynne Roberts called her into the office following the 2016-17 season.
A four-year player who starred at nearby Springville High, Nawahine had one season of eligibility remaining to play for the Utes, even with her degree in hand.
But that wasn't going to be in the cards.
"She felt that I wasn't on board with this year's team, and she asked me to transfer," said Nawahine, who originally enrolled at Utah while Roberts was the head coach at Pacific. "She helped me find somewhere else to go."
That somewhere turned out to be a little closer to home, and the 2015-16 Gatorade Utah girls basketball player of the year quickly found a spot on the BYU roster. Cougars coach Jeff Judkins, a Utah grad himself, originally recruited Nawahine and her older sister Valerie to BYU while the shooter was winning Class 4A state titles with the Red Devils.
But when Valerie Nawahine transferred to Utah before finishing her playing career at BYU-Hawaii, her younger sister followed and thought she had found a place to finish her own career. When the Utes didn't work out, Judkins was quick to the phone.
Got a spot for a former recruit? Of course he did, Judkins said.
"She played in a system at Utah that wasn't the best system for her," said Judkins, whose team opens the season Nov. 10 against Southern Utah. "She's a better player moving without the ball, and so this offense should work better for her."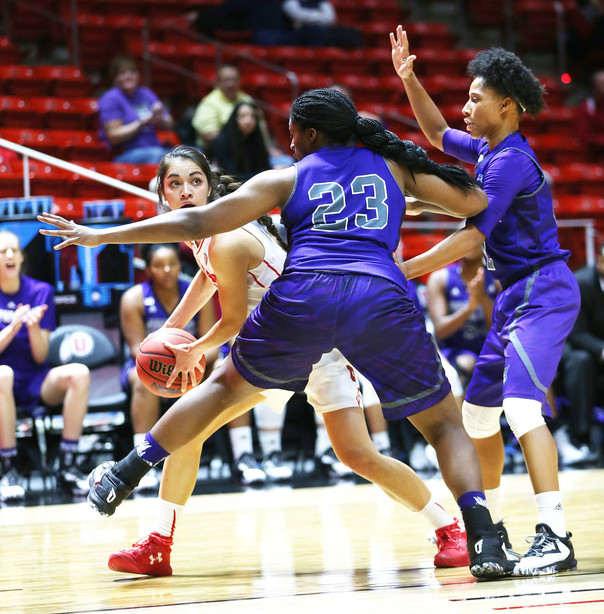 Nawahine also quickly found chemistry with BYU star Cassie Broadhead Devashrayee, the reigning West Coast Conference player of the year, who suited up to guard Nawahine during a pair of rivalry bouts.
The two even came to BYU together on a recruiting trip, though neither remembers speaking to the other. Both Nawahine and Devashrayee are quiet by nature, so that didn't surprise either of them.
Now on the same team, the chemistry came pretty quick.
"At first, it was definitely a little weird," said Devashrayee, who broke out as a junior to average 17.8 points and 8.2 rebounds. "For the last few years, we had several competitive games … even got into little scuffles sometimes. But we clicked so well. We know where each other will be, and have a great chemistry."
Playing with Nawahine is a lot easier than playing against her, it turns out.
"I'm happy she's now on my team. It was rough playing against her," Devashrayee said. "She's very smart, she can shoot the ball, and she can rebound. Playing with her will make the scoring load a little lighter, and make us harder to guard, I think."
And Nawahine has found a home at BYU. Even when her parents moved to Idaho, she still considered Springville and Utah County "home" — while wearing the red-and-white uniform of the Utes, no less.
"It's definitely crazy to me," said Nawahine, who averaged 10.5 points and 3.2 rebounds per game a year ago for the Utes. "I've been a lot of different places, but from Springville is why I chose BYU. I knew Juddie, and he's very similar to my high school coach (Nancy Seljaas Warner), who played for him. I knew I would like the system, I knew him, and it was the easiest thing for me."
With Nawahine in tow, the Cougars hope to replace the scoring output of sharpshooter Makenzi Pulsipher (13.5 ppg) and the rebounding of Kalani Purcell (12.7 ppg, 10.5 rpg). Nawahine will likely slot into the role of Pulsipher or fellow wing Kristine Fuller Nielsen (7.4 ppg), while the Cougars will replace Purcell — whom Judkins calls "the greatest rebounder I've ever coached" — by committee.
Just as important, though, is the lost leadership. That's where Nawahine plans to really shine.
"Fifth-year seniors are important, because of the times you play against different teams," Judkins said of Nawahine, who is earning a master's of public administration from BYU. "We needed leadership. We lost Kalani and Makenzi who played a lot of minutes, and she's been a blessing."
Nawahine started 37 games in her career at Utah, and loved playing Pac 12 competition; she scored a career-high 20 points against Cal on Feb. 19, 2016. This year, the Cougars will face Washington, Cal and Utah from the Pac 12, as well as Georgia from the SEC and regional rivals Utah State and Colorado State.
"We have a lot of young players, and a lot of new players like me," said Nawahine, whose new team includes six freshman and fellow Pac 12 transfer Khaedin Taito from Southern California. "I think there are a lot of things that we have to work out. But I'm really excited.
"I think we can be awesome — but that depends on us."
Photos
Related Stories
0 Pending Comments
Sorry, we are not accepting new comments on this story, but if you have more to contribute please email
newstip@ksl.com
Showing of 11 comments
Sorry, we are not accepting new comments on this story, but if you have more to contribute please email
newstip@ksl.com