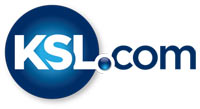 RSL's 'Decision Day' comeback doesn't pay off, but players hold heads high with results
October 22, 2017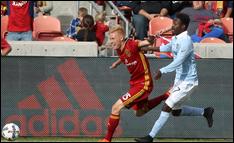 SANDY — For about 12 minutes of game time, Real Salt Lake had made it through to the MLS Cup playoffs.
A team that had an 11 percent chance of qualifying for the playoffs, according to ESPN's Five Thirty Eight, was off to a dream start in Sunday's regular-season home finale against rival Sporting Kansas City.
Luis Silva's goal in the third minute breathed a spark of relief into RSL and sent the crowd of 19,102 fans into a frenzy. It was just the start the home team needed toward making a comeback.
Double that when Brooks Lennon scored off his own rebound in the 40th minute—what turned out to be the game-winning goal in a 2-1 victory.
Could Real Salt Lake do it? Could it beat the odds? Remember the same analytical tool developed by former New York Times reporter Nate Silva to project the 2016 presidential election also gave the U.S. men's national team the slimmest of odds to not qualify for the 2018 World Cup in Russia.
We all know how that worked out.
"Coming out with a win is what we needed," said Lennon, the RSL Academy product who came to Salt Lake City via a loan with English Premier side Liverpool FC. "But we put ourselves in a tough position. It's a shame we can't make the playoffs, because I think we have a team that could go far."
As RSL clung to a 2-0 lead at halftime, other results were already dictating its postseason allotment. Dallas had come back to lead the Galaxy 2-1, and an FC Dallas squad that was controversially ruled to not forfeit a game in which it played an ineligible player nearly secured the one-point advantage it needed to clinch a berth over the Earthquakes.
Perhaps the only consolation for RSL fans is that San Jose's last-gasp goal eliminated the Hoops then, rather than the Claret and Cobalt.
Or more consolation: the way Real Salt Lake, which opened the season with a three-game losing streak that saw Jeff Cassar fired and Mike Petke promoted to head coach from the second-division Real Monarchs, had played down the stretch.
RSL didn't do itself any favors early in the MLS season that is constantly characterized as a "sprint" rather than a marathon. But since the waning moments of summer, the club found new fire with six wins in its final 11 matches.
"I'm proud of my guys, extremely proud since I've taken over April 8 in a blizzard and getting their first win of the year," Petke said. "We hit rock bottom at some point with injuries and (international) call-ups and were last place in the league. But we knew all along the talent we have and knew that better days were ahead. To go on a tear since mid-July to become the best team in the league is great."
The midweek knockout-round matchup was a revolving door through Sunday's "Decision Day," MLS's branded regular-season finale when every team plays at the same time as playoff spots are solidified ahead of the postseason MLS Cup tournament.
Beyond Salt Lake, Seattle, Portland, San Jose and Dallas were all present in the game over the course of 90 minutes. In the end, the slot fell to Vancouver and San Jose, which got a goal in the 93rd minute to clinch the final playoff spot across MLS.
Drama, yes.
But the drama didn't fall in favor of RSL, which now looks back on last week's 1-0 loss to Rocky Mountain rival Colorado with regret.
"One point goes a long way at the end of the season," said RSL goalkeeper Nick Rimando, the MLS's all-time leader in every major goalkeeping statistical category. "The reality is that we could've gotten a point in Colorado, and today we are on to the playoffs. It doesn't go our way sometimes. At least we got a win tonight, though."
RSL did everything it could. But everything it could wasn't enough.
In the end, it was for naught. For the second time in three seasons, Real Salt Lake—the 2009 MLS Cup winner that has seen three coaches since the high point of the franchise—will not be going to the playoffs.
Now begins the offseason—and a complete one for Petke, where he will begin to focus on RSL's first-division squad instead of its second-division team that went on to set franchise records in 2017.
He'll focus on getting better starts now for a team that expects to be in the postseason. Midfielder and longtime team captain Kyle Beckerman remarked that no player wanted to leave Saturday's training session, fearing that it might be the last time the current group is together.
There's a bond created in sports, and RSL's players and coaches have found it. Questions will come up in the offseason—the contracts of the 38-year-old Rimando and 35-year-old Beckerman will expire, for example.
For now, the players will rue missed chances, whether in Colorado or elsewhere, and wonder what-if. But only for a little while.
"It's unfortunate to not make it into the playoffs," Lennon said. "But we did everything we could today, and we'll keep our heads high."