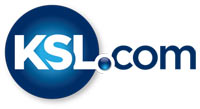 "A season of healing" for the Corner Canyon High mountain biking team
October 12, 2017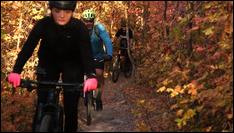 DRAPER — For the Corner Canyon Mountain Biking team, this fall is the season of healing.
"It was so fun. It was a little cold but worth it," said 17-year-old Lauren Fenton.
Worth it because this mountain biking race on Sept. 16 at Powder Mountain was Lauren Fenton's first race since a crash that killed her twin sister, Lexie, and their friend, Ethan Fraga.
"She was my best friend, we did everything together," said Lauren Fenton, who said she and her sister would often finish races together. "We were always in the same group mountain biking."
Last November, Lexie, Lauren, Ethan and two other friends were in an SUV traveling on Highland Drive when the driver lost control, rolling the vehicle.
Ethan and Lexie were both ejected and died on scene. The other three received injuries. All five classmates were friends who grew up on the same street in Draper, and four of them were team members on the Corner Canyon Mountain Biking team.
"It gives you something to give you perspective all the time. ... It's been good that we have each other and we can support her and her family," said coach Whitney Pogue.
The mountain biking team members actually refer to themselves as a family.
"The team has just been really supportive, and they're helping me through it," Lauren Fenton.
She's had to adjust her riding a bit. "So I'm missing my finger.... it's hard to brake cause I'm used to braking with two fingers, but other than that I've gotten used to it."
Corner Canyon High School has the nation's largest high school mountain biking team. No one is turned away. There are no tryouts and no one is benched except for grades and violating team rules. Everybody rides and races.
This year, they ride in memory of their friends.
"She (Lexie Fenton) liked mountain biking, so when I go on the trails, I think of her and when I do, it just makes me want to do better as a mountain biker and contribute more to the team," said 17-year-old Jadyn Christensen.
"There's no judgment on our team. It's cool compared to other teams I've been on. Like everyone's just accepting of everyone," said 17-year-old Seth Saxton.
Pogue said, "I think this team provides an outlet to work their way through grief and pain."
And learn a painful lesson.
"Be friends to everyone and be safe while you're driving because you never know what will happen next," Christensen said.
"I go the speed limit. I never speed. I just try to be as smart as I can. I don't break any laws or anything," said Lauren Fenton.
Although they may all have holes in their hearts, the ups and downs of riding through the mountains bring healing. They look to celebrate every little win, even when it's just conquering the smallest of mountains.