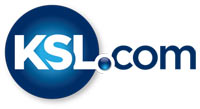 High schoolers paint blades to promote safety around snowplows
October 6, 2017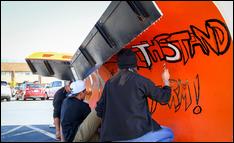 LAYTON — Snowplows already have been on the roads this fall in the state's high-elevation communities, and the Utah Department of Transportation is well into winter preparations.
And motorists may notice something different this year about the large trucks as crews clear snow from Utah roads. It's part of the Paint a Plow program, where high school students decorate the blades of the plows to remind drivers to give them some space.
It was an unusual "canvas" for Northridge High School sophomore Michael Rivera.
"It's something new," he said, "so yeah, I kind of enjoy it. If I see this plow on the road, I'll be proud."
Sitting under the massive 15-foot blade Thursday, Northridge students gained a new respect for the plows and the tough job the plow drivers have behind the wheel.
"They don't look too bad when they're actually out on the road, but when it's just sitting here, they're huge," Rivera said.
UDOT's Zero Fatalities program includes an effort to get high schoolers engaged in safety around snowplows.
"(They) gain a better appreciation for how big they are, where they're out all the time, and the importance of them in keeping our roads clean in the wintertime," UDOT spokesman Vic Saunders said.
Northridge students Sirese Loving, Trey Bielaczyc and Andrina Trujillo worked together to raise awareness about snowplow safety among their peers.
"I just barely started driving," Loving said, so she'll be navigating around snowplows for the first time this year.
The project has Loving feeling more confident that she'll know what to do when she encounters one of the big rigs on the road.
"I won't be like as scared of it," she said. "I think it will be more safe."
Students at Sky View High in Cache County also painted two plow blades this week, creating what they called the "Abominable Snowplow" featuring a fearless yeti.
UDOT's snow-removal team includes 481 full-time plow drivers. On average, the state experiences more than 25 winter storms each year, with snow-clearing operations costing an average of $1 million per storm.
Plow drivers say 200 to 300 feet is a safe following distance because of the dangers involved with plowing.
UDOT officials said they got the idea from transportation departments in other states, and they expect more high schools to get involved next year.