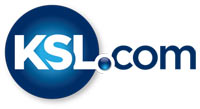 2 Utahns and a rock star team up for musical debuting at prestigious NYC festival
May 19, 2017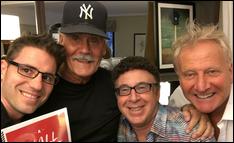 SALT LAKE CITY — A new rock musical co-written by a local doctor and a local director, with music by a member of the rock duo Air Supply, is heading to off-Broadway theaters for a prestigious event in New York this summer.
"A Wall Apart" will debut at the Acorn Theater July 25, with six performances between then and July 30, as a part of the New York Musical Festival, which co-writer and Salt Lake City resident Craig Clyde likened to Park City's Sundance Film Festival for theater.
It features original musical written by Air Supply — the duo probably most known for the 1980 hit song "All Out of Love" — guitarist and singer Graham Russell. It also was co-written by Clyde, who is more known as a screenplay writer, director and actor in film and Sam Goldstein, a neuropsychologist and an assistant clinical instructor in the Department of Psychiatry at the University of Utah School of Medicine.
The musical is set in Germany during the time the Berlin Wall was built.
"It's a love story with a lot of sacrifice and determination," Clyde said, describing the play to KSL. "Essentially it's a boy in the east — one of three brothers — that falls in love with a girl in the west. At the end of the first act, the wall goes up. And then they have all these things to consider."
While the characters themselves are fictional, much of the play was researched in a time period Russell said he feels has been forgotten.
"The way the story unfolds is very historic," he said. "I think the story was very compelling."
The story of how that musical came together is almost as captivating.
A rock star, a doctor and a film director may seem like an odd trio to put together a musical, especially as Goldstein points out all three are at least 65 years old with little experience in playwriting. However, the connection over an idea has bonded them together.
"At an age where most people are retired and playing golf or doing whatever they do, we're embarking on a whole new career for all three of us," he said.
Goldstein said he and Clyde have known each other for close to 40 years when he was a psychological expert on a TV daytime talk show Clyde hosted.
They then began a small film company called Majestic Films that made mostly family movies. They since went on to write several scripts throughout the years — including award-winning screenplays.
Goldstein knew Russell through another passion of his: music. While he is a doctor, Goldstein is also in a half of the local musical duo The Banned Sigmund Freud, which plays mostly charity gigs. There his bassist was formerly a longtime bassist for Air Supply.
A few years ago, Russell had written music for another off-Broadway play that Goldstein attended. The play wasn't successful, and Goldstein thought it had to do with another aspect of the play. He suggested that he and Clyde should write the script and Russell could write the songs.
"I thought his music was being wasted on an inferior story and I said that Craig and I could write a better story," Goldstein said. "I told Graham that I have a whole bunch of ideas for stories, maybe movies or other things. And I proposed this story of these three brothers and the Berlin Wall because I thought it was a good topic for a rock musical."
So the two met and discussed the idea. In fact, the first meeting about the project occurred inside a lounge at Salt Lake City International Airport, Russell said.
"He said, 'Oh, I can write a better script than that,' and I said, 'Well then, show me,'" Russell said. "So he wrote this script with Craig Clyde and I really liked it and I really got fired up about it. It was a great story and it went from there."
With Russell now on the project, the group got to work in 2015 and the whole process took about three months. Goldstein and Clyde began working on a script, with Goldstein working on the storyline and Clyde writing the dialog.
The two learned quickly that writing for live theater was a little different than writing previous work. Much of what Goldstein has written — around 50 books — have been scientific, while Clyde's work has mostly been writing for broadcast.
"It's been a real learning curve," Clyde said of the difference. "I know all about film and how to get that done, but a play, a musical is just a whole different animal."
Goldstein added that the script has been adjusted nearly 40 times since it began, just making tweaks here and there to improve the musical as an audience views it.
As the scenes were being written, they would push them along to Russell who would write and compose the songs. That process didn't take as long as expected.
"I would wait until they would have the scene and as soon as they would send me the scene, and I knew enough about the character in that scene and what was going on, I would write the song straight away," Russell said. "I just knew what to write and I'd usually send them back a song the next day."
One song, "I Adore You," was first released in 2015.
The first reading of the musical occurred in Salt Lake City in the fall of 2015, where the first casting was done, Russell said. Another reading happened in New York City after it had caught the attention of an artistic director of a non-profit organization in New York called NewYorkRep.
Potter helped develop it into what it is now, suggesting in 2016 that it be submitted for the New York Musical Festival. It wound up being selected and will debut in July.
Tickets for the musical will go on sale June 15. It's an accomplishment all three said they are proud of.
The hope afterward is that participating in the New York-based festival will give the musical cachet to possibly make it to Broadway or elsewhere in the country.
"Frankly, the only place that happens is New York," Clyde said. "If you're going to make it, if it's going to be any kind of a thing, it has to play in New York at some point."