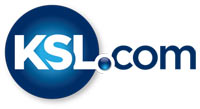 Students in Spanish Fork see first-hand the consequences of drunk and distracted driving
May 17, 2017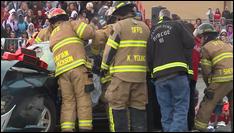 SPANISH FORK — Spanish Fork High School's entire student body gathered Wednesday in a parking lot to watch a tragedy unfold.
The scenario: A drunk-driving accident.
The students watched the head-on collision involving two cars with young people inside, where one of them died.
While it may have looked real, the situation was actually a drill meant to send a real message about the dangers of drinking and distracted driving.
The mock crash, made to look as authentic as possible, included students in full makeup acting out the possible consequences of what alcohol and texting while driving could lead to.
"I think it's a very serious issue that teenagers need to take seriously and need to believe that it could happen to them," said Janette Smith, a Spanish Fork High School junior.
Students sitting in the bleachers watched as dozens of Spanish Fork police, firefighters and EMTs, along with Utah Highway Patrol troopers and an AirMed helicopter, responded to the scene of the mock crash. The responders used the Jaws of Life to cut through the metal to rescue the injured students.
The students could also hear the radio calls as officials communicated with each other throughout the medical and safety response.
Audio: "May I help you?"
Audio: "Yeah, I just pulled up to a really bad accident. Two vehicles. Looks like it was a head on. I don't know if someone veered into the other lane or what."
Some of the students agreed the whole thing was a gruesome scene that no one ever wants to see or experience, but they understood the point of the exercise.
"To help kids understand the effects of not wearing your seat belt and how devastating it can be," said high school senior Sarah Thompson.
As summer vacation quickly approaches and as graduates throughout Utah get ready to celebrate, UHP and other agencies hope this exercise will remind young people to think twice when they get behind the wheel or into a friend's car.
"Hopefully when students graduate they'll do it safely and be careful," said UHP trooper Blake Bradford. "Come home to your parents!"
Lights, sirens, the sound of cutting tools, sheets covering up bodies, chopper blades spinning continuously ready to transport an injured girl. The scenario lasted about 45 minutes and the students, about 800 total, watched intently.
At the end of it all, students like high school junior Jonathan Cooms left the mock crash with a message ingrained in their minds:
"I just think it's important to drive safe and drive carefully so you don't put anybody else at risk."
Contributing: Yvette Cruz