SALT LAKE CITY — In a jubilant procession, worshippers at the Cathedral Church of St. Mark marched with blessed palm fronds waving, recalling Jesus Christ's entry into Jerusalem.
But in an emotional moment later in the Palm Sunday service, the Episcopalian congregation was called on to play the voice of the defiant crowds that cried out for Christ's death.
The dramatic range of feelings evoked during the annual service, which begins Holy Week leading up to Easter Sunday in seven days, in a way represents what his congregation will experience throughout their lives, the Very Rev. Ray Waldon said following the service.
"This feeling should sustain us in Holy Week and in the rest of our lives," Rev. Waldon said. "But it's a feeling of understanding that life is sometimes full of triumph and other times it's full of sadness, but in the end, if we're faithful, there's triumph."
The ornate cathedral filled quickly as worshippers received blessed palm leaves and streamed in amid a refrain from the choir and congregation. Rev. Waldon, dean and rector of the Cathedral Church of St. Mark, praised the number of participants, including many couples and families, and noted that the Palm Sunday service can be especially powerful for children and youth.
The same is true, he said, for families worshipping together in any religious service in the area.
"I think it's especially important that they share Palm Sunday and Holy Week, because they learn from an early age about Jesus and about the joys that come with that," he said.
Rev. Waldon was especially touched as he knelt to give communion to a number of children Sunday.
"You could look in their eyes and there was something amazing they had seen," he said.
Among the congregation Sunday were Lara and Michael Galindo and their three children — 15-year-old Diego, 13-year-old Simone and 11-year-old Cecilia. Seated on either end of the pew with their children between them, the parents at moments during the service reached out to their children and grasped their hands, put an arm around their shoulders or kissed their cheeks.
"We love this cathedral, we love worshipping here, and we appreciate the chance to involve our kids in a spiritual community to give them a connection with God and to give them a basis of faith," Lara Galindo said.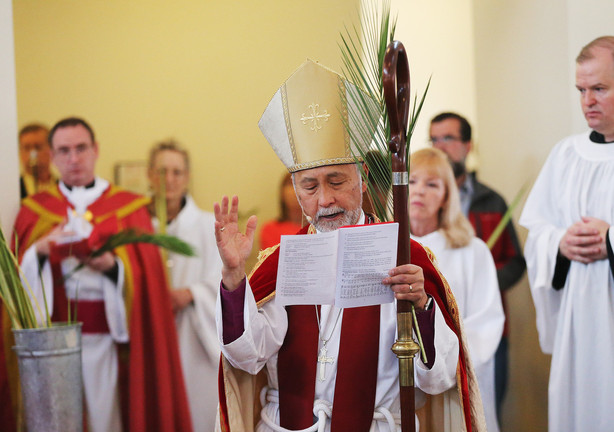 The Palm Sunday service is of special importance to the family, Michael Galindo noted.
"This is a really profound service for me. It's probably the most humbling of all the services of the year," he said.
His wife agreed, recalling the moment in the liturgy when the congregation calls out for Christ's crucifixion, saying, "I cry every time."
Michael Galindo said he hopes his family will carry the humility they felt during the service as they go through Holy Week and in the weeks to come, as well as "that feeling of peace and fortitude that Jesus soldiered forward for our sakes."
---
It's amazing to see the large number of people that turn out for Palm Sunday. For Episcopalians, to come on Palm Sunday is truly the start of their Holy Week, and they certainly came out in droves,
–Rev. Ray Waldon
---
Echoing his parents, Diego said the Palm Sunday service stands out to him as a special moment each year.
"The ceremony, it feels special, it's something that doesn't happen regularly," Diego said. "It's a special day and it helps me feel connected to God."
Cecilia agreed, saying that Palm Sunday "helps me feel closer to God."
"I enjoy participating in singing and hearing all of these stories," she said.
Rev. Waldon called Palm Sunday's service "the bookend" to Holy Week, and that next week on Easter, the faith will commemorate Jesus Christ's resurrection. The Rt. Rev. Scott B. Hayashi participated in the service.
"It's amazing to see the large number of people that turn out for Palm Sunday. For Episcopalians, to come on Palm Sunday is truly the start of their Holy Week, and they certainly came out in droves," Rev. Waldon said.
He noted that the church will host more than a dozen services throughout Holy Week, including a candlelight service Tuesday, foot washing and communion on Thursday, and a stations of the cross walk between different downtown churches on Good Friday.
Clergy urged the congregation to attend the Holy Week services when possible to deepen their experience this Easter. Members of the public are invited to participate in the Holy Week and Easter services. A full scheduled is available at stmarkscathedralut.org.
Photos
0 Pending Comments
Sorry, we are not accepting new comments on this story, but if you have more to contribute please email
newstip@ksl.com
Showing of 1 comments
Sorry, we are not accepting new comments on this story, but if you have more to contribute please email
newstip@ksl.com