PROVO — Isaac Neilson hadn't stepped foot in a basketball uniform on the Marriott Center court in nearly two years since the former BYU forward transferred to Utah Valley University.
He was on a mission to prove he belonged Saturday afternoon.
Neilson scored a career-high 26 points including a pair of 3-pointers, and Brandon Randolph supplied 21 points, 14 assists and nine rebounds to lead Utah Valley to its first-ever win at BYU, 114-101 in the Marriott Center.
Former Lone Peak standout Conner Toolson also scored 21 points for the Wolverines, who won their fourth-straight game that included a come-from-behind 88-85 win over Denver just three nights ago.
"Honestly, it's one of the greatest nights of my life," Neilson said after the Wolverines' program-defining win. "This means a lot to me and it means a lot to our team. Our whole mantra was to shock the world, and I think we did that tonight. I'm really proud of the guys and the coaching staff for all that we did. We hope to continue that for the rest of this season."
The 114 points were the most scored against BYU in the Marriott Center since Utah State in 1988.
Nick Emery scored a game-high 37 points with four assists for BYU (4-2), which lost its second-straight non-conference game and first home loss in non-conference play in 16 tries.
Eric Mika added 22 points, five rebounds and two assists for the Cougars, but played just 26 minutes before fouling out in the second half.
Utah Valley (4-1) knocked down a school-record 18 3-pointers on the afternoon while attempting 36 deep balls in its third-ever trip to the Marriott Center.
"This is a great win for us, but we have so much growing to do," said Utah Valley coach Mark Pope, a former BYU assistant coach. "This won't be the best moment that we have at Utah Valley — we still have so much work to do, and we can become such a better team. But this is a special night for us."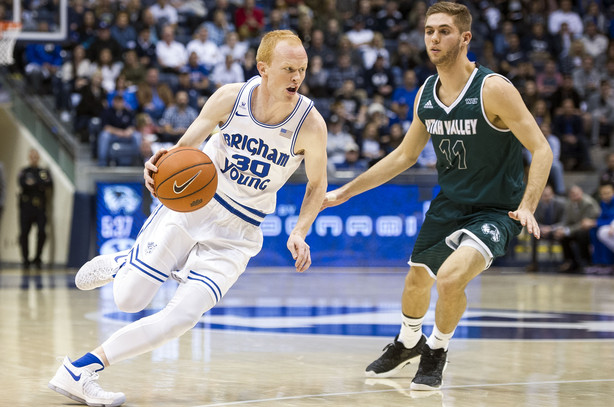 Jordan Poydras' effort from deep gave the Wolverines a 97-82 lead with 4:41 left in the game, and the Wolverines became the first team to score 100 points on the Cougars since a triple-overtime loss at Portland in 2014.
"Most importantly, we're grateful for the opportunity to have this game," Pope said. "Coach Rose is a spectacular coach, and what he's done here is amazing. He's been a personal friend and a great mentor to me."
Jared Stutzman led Utah Valley with 11 points in the first half, and the Wolverines took a 54-52 halftime lead when Randolph called bank on a 3-pointer at the halftime buzzer.
"That gave us the momentum," said Randolph, a Xavier transfer. "I turned over the ball, and I just wanted to make up those two turnovers for my team. I let my team down, and I wanted to get a decent shot up at the half."
The Wolverines attempted 36 3-pointers and made eight of their first nine en route to the 18 total makes that also set a Marriott Center record.
BYU went on a 9-0 run after Neilson retired to the bench with his second foul in the first half. Yoeli Childs, who had eight points and six rebounds off the bench, pulled BYU within three, 39-36 on a dunk with 5:39 remaining in the half before Randolph's pre-half bank for the edge at the break.
Neilson pushed the Wolverines' lead to 68-60 with a jumper at the 15:35 mark of the second half, giving him a career-high 16 points and his highest scoring output since BYU's 76-60 win at Weber State on Dec. 13, 2014.
"We've got to improve," said BYU forward Kyle Davis, who had 11 points and six rebounds. "We've got to get better. We'll come back from this and improve every week."
But Emery wouldn't let the Cougars die. He hit his game-best 29th point to cap a personal 7-0 run and pull BYU within four, 73-69 with 10 minutes remaining. But the Wolverines held him scoreless for the next 10 minutes to salt away the win.
"We played embarrassing," Emery said. "Our effort, our defense; that was embarrassing. Just overall embarrassing. We have nothing else to say.
"Coach Pope has put them in a great position, and they are going to win a lot of games. But we are embarrassed."
Photos
0 Pending Comments
Sorry, we are not accepting new comments on this story, but if you have more to contribute please email
newstip@ksl.com
Showing of 70 comments
Sorry, we are not accepting new comments on this story, but if you have more to contribute please email
newstip@ksl.com