SALT LAKE CITY — In a presidential election that pitted two of the most unpopular presidential candidates in recent history against each other, exit polls show that Utah Republicans were highly conflicted.
According to exit poll data, 6 of 10 Republicans voted for President-elect Donald Trump.
They were far less enthusiastic about the billionaire businessman than former GOP presidential nominee Mitt Romney, who received 96 percent of the Republican vote in Utah in 2012. The GOP nominee before him, John McCain, received 90 percent of the Republican vote in 2008.
"It's hard to see a resounding vote for Trump in this," said BYU political science professor David Magleby, who created the Utah Colleges Exit Poll in 1982. "He does win Utah with a plurality, but those who voted for him were largely holding their noses."
The data was collected by more than 2,000 Utah college students who surveyed over 26,500 by-mail voters, early voters and Election Day voters.
With more than 100,000 ballots still uncounted statewide, Trump stands at 46 percent of the popular vote as of Friday.
Clinton received 28 percent of the vote, while third-party contender Evan McMullin trailed at 21 percent.
Magleby called the election "unlike any other in my lifetime."
"This one was just really nasty, and I think it bothered voters," he said. "We haven't had a presidential race that was this unsettled in Utah for half a century."
Many Republicans appeared to have waited until a few days before Election Day to make their choice, according to Magleby, which likely contributed to long lines at the polling centers.
Early voting skewed heavily toward Democrats — so much so that Election Day opened with Clinton and Trump within one point of each other, he said.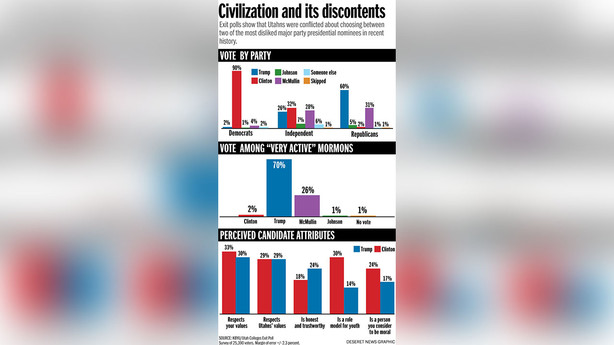 Magleby said that's a sign that many Republicans felt conflicted until the last minute.
Jason Perry, director of the Hinckley Institute of Politics at the University of Utah, said last-minute plot twists like the WikiLeaks releases and FBI director James Comey's announcement about Clinton's emails may have had an impact on those voters.
Another sign that Republicans felt conflicted was the higher-than-expected percentage that broke ranks with their party this year, Perry said.
Fifty-four percent of Democrats voted straight-ticket this year compared with 39 percent of Republicans, according to Perry.
"They didn't just stick to their party," he said. "There were issues that were bigger than that."
Those issues largely revolved around the character and principles of the candidates.
In fact, Trump was viewed less favorably by Utah Republicans than either Romney, McMullin, Vice President-elect Mike Pence or Independent candidate Gary Johnson, according to exit poll data, though Clinton and Obama still scored worse.
When asked what they thought about the candidates, just 14 percent of voters said they thought Trump was a role model for youths. Only 17 percent said they considered him to be a "moral" person.
Related
Clinton fared slightly better in those regards. Thirty percent of voters said they consider her a role model, and 24 percent said they consider her "moral."
But the former secretary of state fared worse when it came to trustworthiness. Eighteen percent of voters said they thought she was honest and trustworthy, compared with 24 percent for Trump.
When it came time for voters to choose one or the other, "there was very little discussion about the actual policy," Perry said. "It became about the candidates themselves."
Magleby said Mormon voters appeared to set aside their reservations about Trump's bombastic personality and flashy lifestyle.
According to exit poll data, "very active" Mormon voters chose Trump at even higher rates than Republicans as a whole, with 70 percent of them going to Trump.
But that doesn't mean voters were enthusiastic about him.
About half of Trump voters in Utah said they were casting their ballot mostly "against" another candidate rather than "for" Trump.
Clinton inspired slightly more enthusiasm among voters than Trump, with 70 percent of her voters saying they cast the ballot "for" her rather than "against" another candidate.
"The Trump people were voting against Clinton," Magleby said. "If they had had a different option (than Clinton), they might have gone Democratic."
Trump's candidacy did not appear to affect down-ballot races in Utah, most of which were won handily by Republicans, including those who had spoken out against Trump.
Future elections
It will be difficult to predict what the 2016 presidential election portends for future elections in Utah, Perry said.
"There's no election in history that we can look to to guide our interpretation of what just happened," he said. "This was an entirely unique kind of election.
"The Donald Trump campaign has rewritten the book on campaigns," Perry added. "How you approach the public, how you do social media, how you do your ground game. It's all new, and it's going to be a long time in processing."

Email: dchen@deseretnews.com Twitter: DaphneChen_
Photos
0 Pending Comments
Sorry, we are not accepting new comments on this story, but if you have more to contribute please email
newstip@ksl.com
Showing of 75 comments
Sorry, we are not accepting new comments on this story, but if you have more to contribute please email
newstip@ksl.com