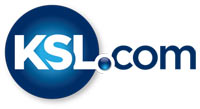 New Utah program aims to help convicts rehabilitate
June 20, 2016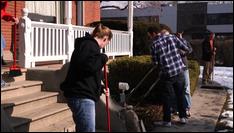 SALT LAKE CITY — It's a problem that frustrates judges and prosecutors - how to deal with criminals that just keep re-offending.
A new program in Utah claims to be the answer. The Other Side Academy, or TOSA, in downtown Salt Lake City is not your typical rehab program. The students who live there come with a lot problems. They hope to leave with an education, work experience, and a new outlook on life. The program is run by ex-convicts.
Dave Durocher was a hardcore drug user for 25 years.
"I did a two-year prison term, got out for two months. I did a five-year prison term, got out for two months. I did a 6-year prison term, got out for four months. Then I did a ten-year prison term," Durocher said.
Today Durocher oversees a moving company where the movers are convicted criminals.
"They are the hardest working, friendliest, most tattooed movers you will ever see," he said.
The Other Side Movers is just one of the vocational training opportunities at The Other Side Academy – a program for people struggling with drug addiction, ongoing criminal activity, or homelessness. Durocher is the managing director.
"You learn how to get up, go to work, have a good attitude, go to bed. Get up, go to work, have a good attitude, go to bed," he said.
They were hired to do a move for the Salt Lake City Police and Detective Bill Silver was assigned to oversee the job.
"When I first heard who I was going to be dealing with on this move, I was like are they gonna like me or not," Silver said.
He was pleasantly surprised calling The Other Side Movers "hardworking and friendly." And he's not alone. A look online shows rave reviews.
The Other Side Academy opened its doors at Salt Lake City's old Armstrong Mansion in October and it already has more than 40 students. The average student has been arrested 23 times. They applied to come here by writing a letter. Once accepted, they had to convince a judge to let them come to TOSA as an alternative to incarceration. They committed to stay at least 2 years - much longer than most rehab programs.
"There are no guards, there's no therapists, there's no staff. There's no 12-step program," said co-founder Joseph Grenny. "This is just a healthy community that holds you accountable and helps you learn to live in a healthy community."
Students gain an education and work experience. Nobody pays anything to attend. The program is paid for by various businesses run by the students - like The Other Side Movers. TOSA is also getting ready to launch a food truck called Promise Land Food. It will sell funnel cakes with all kinds of toppings.
"For years, many of us wanted something like this in Utah," Grenny said.
He patterned The Other Side Academy after a hugely successful program in San Francisco called The Delancey Street Foundation. About 20,000 people have turned their lives around and graduated from Delancey Street over the last 45 years. Grenny hired Delancey Street graduates to be the directors at The Other Side Academy.
The Delancey Street Foundation saved Durocher from a 22-year prison sentence. "Delancey Street gave me the opportunity to go someplace that was conducive to change and stay there long enough until it actually became me. Kind of re-calibrate the moral compass, if you will," he said. "I owe them my life."
Lola Zagey is the director over the women's program at TOSA. She said she tried 30-day programs and 60-day programs before she went to Delancey Street and turned her life around.
"We're offering people the same opportunity to completely change their lives," Zagey said.
Not everyone was initially supportive. Deputy Utah County Attorney Christine Scott did not want to send defendants to The Other Side Academy. In fact, she fought it for several months.
"Because they're not being locked up and nobody's tracking them. They don't wear a GPS monitor," Scott said.
After learning more about the program, Scott had a change of heart. She said she's seeing hardened criminals completely change their attitude – something she never thought possible.
"I go up there all the time and I talk with them and see them and I am so pleased," Scott said.
She now thinks TOSA is the best option to change behavior and reduce recidivism.
"I honestly don't remember the last time I had somebody who didn't have a criminal history, so recidivism is significant," she said.
Grenny believes his non-profit will save Utah a lot of money in incarceration expenses, decrease criminal activity in our communities, and give many of the underclass an opportunity to succeed.
"It saves lives," he said. "And what's the value of a life?"
And for someone who's grateful to have his life, The Other Side Academy is a way of saying thanks.
"I often tell people that I spent the first half of my life helping people die. I'm going to spend the rest of it helping them live," Durocher said.
Founders of The Other Side Academy plan to expand and replicate the program. They hope to have many more campuses throughout Utah and throughout the country.