SALT LAKE CITY — Gwen White's experience with homelessness started in her car.
"I am a product of domestic violence. I spent a lot of time in my car with my children. We would go to the drive-in and they would sleep. When I thought it was safe, I'd go home," she said during a panel discussion on homelessness last Thursday at the University of Utah's Hinckley Institute of Politics.
At the time, White was unaware of any services to assist people experiencing homelessness or domestic violence, she said.
"By divine intervention, in 2007 I broke the cycle of domestic violence myself," White said.
While living with her son, she learned about supportive housing programs that provide people experiencing homelessness a place to live and wraparound services to help them address the issues that contributed to their homelessness.
Two years later, she moved into Kelly Benson Apartments, a 59-unit development by the Housing Authority of Salt Lake County that provides permanent supportive housing for people age 55 and older with disabling conditions, including those who have been homeless or chronically homeless.
White wept as she showed the audience the key to her apartment.
"If I had my way, every person would have a key. This is one of my prized possessions because I know I'm safe. I have a roof over my head. I have food to eat. I used to feel like I didn't deserve it and sometimes I still don't. But they're deserving. Everyone deserves the key," she said.
While housing gave White a sense of personal security, her health was poor and she suffered from post-traumatic stress disorder from years of experiencing domestic violence. But she had no insurance.
"Unless it (a body part) fell off or I couldn't breathe, I didn't go to the doctor. My children were my main concern," she said.
Fourth Street Clinic, which provides comprehensive medical services and case management to homeless Utahns, helped restore her physical health. Case managers connected her to other community resources.
White now serves on the clinic's Consumer Advisory Board, which helps clinic administrators better tailor services to patients. She also advocates for people experiencing homelessness.
Laura Michalski, CEO of Fourth Street Clinic, said the consumer board recommended that the clinic add dental care and mammography to its services. It now offers comprehensive dental services and works with a mobile mammography service to provide that assistance to women.
Another important function of the clinic is case management, Michalski said.
One funding source for the service is the Pamela Atkinson Homeless Trust Fund, which receives funding through an income tax checkoff program.
Tamera Kohler, director of the State Community Services Office, encouraged the audience to contribute to the fund when they prepared their income tax returns.
"If it's $2 or $20, it goes directly to this fund," she said.
While Utah has enjoyed national attention for its success in virtually eliminating chronic homelessness through its "Housing First" approach, it's not enough to simply place people in housing.
"We've got to have the supports along the way," Kohler said.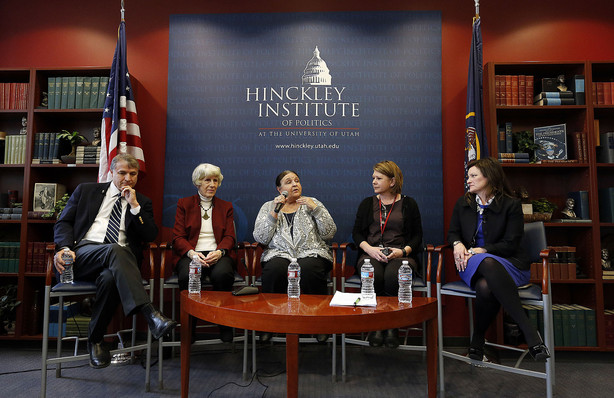 The homeless trust fund supports a wide array of services statewide, such as food pantries, case management and outreach.
"Simple things, such a clean pair of socks, is a really important thing this time of year," said Kohler, whose office administers the fund.
White agreed. While volunteering at Fourth Street Clinic, a woman asked her if there was some place she could get new underwear. The woman told her she had worn the same pair of underwear for six months, washing it daily.
"I freaked. The things we take for granted, like a comb to comb your hair, somewhere to brush your teeth and a safe place to do it," she said.
Sometimes, the smallest of gestures can make a huge difference, Atkinson said.
"You know when you take a bag of food to the food pantry, that that bag of food can prevent homelessness? It's a powerful tool, a bag of food," she said, explaining that money a needy family doesn't have to spend on food can help them pay the rent or meet other expenses.
Atkinson told the audience of mostly college students that they can make a difference in the lives of homeless people.
"What you're doing when you sign off that form, you are creating hope," she said, explaining that the act of giving means a great deal to people in need.
"It gives them a little self-esteem. 'Maybe I'm worth it after all,'" she said.
White said when she talks to women experiencing homelessness, the thing some of them want most "is for people to look them in the eye, straight in the eye, like you would anybody else."


Photos
0 Pending Comments
Sorry, we are not accepting new comments on this story, but if you have more to contribute please email
newstip@ksl.com
Showing of 15 comments
Sorry, we are not accepting new comments on this story, but if you have more to contribute please email
newstip@ksl.com