SALT LAKE COUNTY — A program to bring science behind bars is flourishing at the Salt Lake County Jail. Inmates are learning lessons that will improve their lives and reduce crime.
On a chilly fall afternoon, Celeste Henrickson, the project manager for the University of Utah's Initiative to Bring Science Programs to the Incarcerated (INSPIRE), is helping a small group of jail inmates learn how to string a fish trap.
"They're real little fishies. So, if you're looking in here (the trap) for fish, look really closely," said Henrickson.
It's a simple idea that could have a profound impact.
"Coming out here we get an opportunity to grow," said inmate Antonio Chavez. Here, outside the jail walls, Chavez and 15 other inmates are feeding, trapping and observing thousands of Utah's fragile Least Chub fish.
"You need a lot of hands, these guys (Least Chub fish) need a lot of support. They lost a lot of habitat and they need to be fed, sometimes up to three times a day," says Henrickson.
A new way of thinking
The inmates' role as caretakers of these fish has given them a new outlook.
"It takes you, takes you out of the way you used to think," Chavez says.
Matt Brooks is another inmate working with the fish.
"It's a blessing to be out learning different things that we never learned before," he says.
It is what University of Utah biologist Nalini Nadkarni calls the healing power of nature.
"It seemed to me that if there were any population that really needed exposure to nature, to nurturing wild things, it would be people who are incarcerated," says Nadkarni.
Chavez has embraced the INSPIRE project at the jail.
"That's pretty cool to come out of these walls here and to be out here, that's an experience," says Chavez.
It's an experience Nadkarni is taking behind bars in six states at nine different correctional institutions.
"In all these programs, we have nothing but positive feedback," Nadkarni says.
"Instead of sitting around idly doing nothing, they can be productive, learning new skills, talents, and hopefully even a new job," Sgt. Shon Lance of the Salt Lake County Sheriff's Corrections Bureau says.
The value of hands on experience
The inmates have the opportunity to set traps, test water quality and measure the fishes' growth.
"We were setting traps to catch the fish so that we can measure them and see if they're populating," says inmate Domanick Velasquez.
Chavez has been surprised by all the responsibility the inmates are given.
"I thought it would be more of us like observing them do it, the agriculturists and what not, but they let us do hands-on," he says.
It's hands-on learning that has impressed their teachers and jail supervisors.
"These are students that are very attentive and very interested. They ask intelligent questions and they are very much engaged," Henrickson says.
'They need opportunities'
Sheriff Jim Winder expected INSPIRE to be successful, and he is not disappointed with the results so far.
"What we recognize is that individuals that come into our correctional facility are individuals that are in a transition in their lives, they need opportunities," Winder says.
They need the opportunity to turn a negative into a positive investment in the future.
"You're away from your family, you got your freedom taken away from you, but to be a part of a program like this, it uplifts your spirits, gives you confidence," Chavez says.
Lance agrees with the inmates in the program.
"Our overall goal is to keep them out, keep them in society, back with their families where they need to be, living productive lives."
Winder says law enforcement's approach to corrections is evolving.
"We want people to know that when they come here, they're valued. And more importantly, that when they leave, they can provide even more value."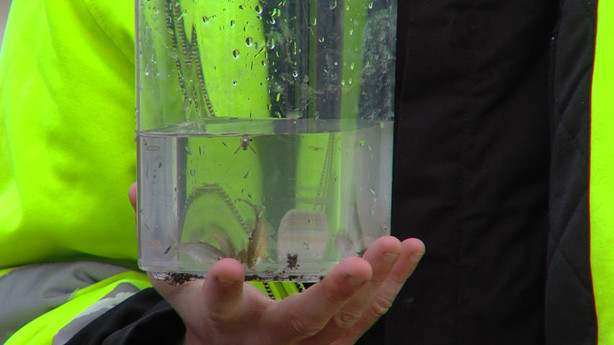 Making a difference
A review of prison education programs by the RAND Corp. earlier this year found a 13 percent decrease in recidivism or an inmate's chances of returning to prison if they complete an education program behind bars. The same review found that inmates who took classes in prison were 13 percent more likely to find a job after being released.
"And so that was the whole idea between connecting incarcerated people, men and women, with conservation projects," Nadkarni says.
INSPIRE is focused on helping inmates find new knowledge and understanding behind bars that they can use to survive and flourish after they're released.
As Henrickson and the inmates study and measure the Least Chub they've captured in their traps, there's excitement that a program in its infancy is showing so much promise.
"If the fish are producing eggs and everything else, they can repopulate and go back to the wild," Velasquez says.
This Thanksgiving there is also gratitude.
"I'm thankful for the opportunity to participate in a project like this," Henrickson says.
"To accomplish things in our lives that makes us feel good about ourselves and what we can do when we get out of here for our families," Chavez said.
In the spring, dozens of trees and garden landscaping will be planted around the pond. That project will give inmates a chance to learn some landscaping skills. If taxpayers are wondering how much the program is costing them, the answer is not a dime. It is paid for through federal programs and a commissary fund at the jail.


Photos
Related Links
Related Stories
0 Pending Comments
Sorry, we are not accepting new comments on this story, but if you have more to contribute please email
newstip@ksl.com
Showing of 15 comments
Sorry, we are not accepting new comments on this story, but if you have more to contribute please email
newstip@ksl.com