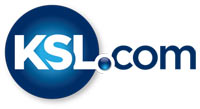 New Salt Lake Comic Con guests announced
July 8, 2014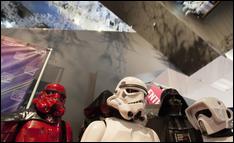 SALT LAKE CITY — Ali Colorado and Cathy Brickey drove more than an hour from Payson on Tuesday morning in hopes that Stephen Amell, the star of the CW's superhero drama "Arrow," will make an appearance at Salt Lake Comic Con this fall.
He will.
Packed in The Leonardo's lobby, the women cheered along with the dense crowd of costumed fans as Amell appeared on a highlight reel of upcoming guests, along with Simon Helberg ("The Big Bang Theory"), Manu Bennett ("The Hobbit"), Dean O'Gorman ("The Hobbit") and Jon Heder ("Napoleon Dynamite").
Weta Workshop, renowned for special effects and props in "The Hobbit" and "The Lord of the Rings" trilogies, will also be returning this fall, along with favorite comic artists and vendors.
Colorado drew cheers from the crowd as she shouted thanks to convention organizers at the end of the event, promising that Salt Lake Comic Con supporters will be "the best fans anywhere."
"We want the word to spread to all the guests that people in Salt Lake are awesome so next year more people will want to come," Colorado said. "We're not San Diego (Comic Con), but we don't need to be."
With about two months until Salt Lake Comic Con returns, Bryan Brandenburg, a founder of the event, announced that pre-sales for September's convention are already three times higher than those of last year's inaugural con and April's FanX convention.
Brandenburg said organizers hope to comfortably accommodate at least 120,000 attendees this fall, topping previous records of 72,000 people at the first Salt Lake Comic Con (making it the largest first-time convention in the country) and 100,000 guests at FanX earlier this year.
Salt Lake Comic Con, which has become the third-largest convention in the U.S., reconvenes Sept. 4-6 at the Salt Palace Convention Center.
Convention founder Dan Farr promised organizers are still working to snag celebrities for the event. Brandenburg agreed, assuring that at least eight more headlining guests will be revealed in the weeks leading up to Comic Con.
"If we have to fly to their house and wash a few cars to get them out here, we'll do that," Farr joked, recalling efforts to secure Patrick Stewart ("Star Trek: The Next Generation") as a last-minute guest at FanX.
Marvel Entertainment and Dark Horse Comics have joined the list of sponsors for this fall's convention, Brandenburg announced, and there are plans to grow the corresponding film festival as well.
Other peripheral events, like a downtown zombie walk and monthly cosplay workshops at The Leonardo, have also been scheduled leading up to September.
As costumed fans filed outside for a group photo, both Brandenburg and Farr said happily they continue to be impressed by the number of fans who turn out for Comic Con events and their unfailing enthusiasm.
"My expectations continue to go up as people come out and support us," Farr said.
The growing roster of celebrity guests announced so far includes: Ernie Hudson ("Ghostbusters"), Cary Elwes ("The Princess Bride"), Bruce Campbell ("Army of Darkness"), John Barrowman ("Doctor Who" and "Torchwood"), Sam Witwer ("Being Human"), Christopher Lloyd ("Back to the Future"), Eliza Dushku ("Buffy the Vampire Slayer"), Kevin Sorbo ("Hercules"), Lou Ferrigno ("The Incredible Hulk"), Erin Gray ("Buck Rogers in the 25th Century"), Giancarlo Esposito ("Revolution") and Michael Rosenbaum ("Smallville").