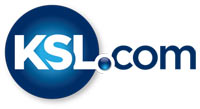 Progress made on new Hope Lodge for cancer patients
March 10, 2014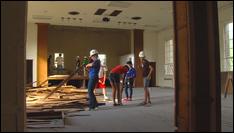 SALT LAKE CITY — Hope is a very important word for cancer patients, and soon they will have a new place to stay with a loved one while going through treatments and recovery.
Soon Salt Lake City will be the first city west of the Mississippi to have a Hope Lodge. Currently, 5,000 cancer patients undergo treatments at a number of hospitals in Salt Lake City, whether they live in Utah or throughout the West.
A Latter-day Saint meetinghouse was built at 100 South and 400 East in downtown Salt Lake City in the 1950s. However, the building has not been used for church services for years. This is where the American Cancer Society's Hope Lodge, a home-away-from-home for cancer patients and loved ones, will eventually be built.
Construction workers are moving quickly to clear the debris, and already a spirit of hope has been part of the deconstruction.
"Hope Lodge is a comfortable place to stay — for free — for those who have to come to Salt Lake for treatment from far distances," said Hope Lodge Board Chairwoman Katie Eccles. "And they can stay for a few days or several weeks if that's their treatment protocol."
Church leaders donated the property and then other nonprofit groups donated to the project as well. In August 2013, Habitat for Humanity took materials from the interior to use in new projects. Five 30-foot pine trees have gone to the Navajo Tribe in San Juan County.
"There is so much good material in this building," said Reuse People of America representative Daniel Salmon. "It would be a shame to just throw it all in the landfill. Every time you do that, you just need more space to put trash. And this isn't trash."
Even the demolition has become a labor of love, starting with A-Core. Like so many, this company and the family that runs it have been touched by cancer.
"In memory of their mother, (A-Core) wanted to contribute their labor and their time to the deconstruction — the final deconstruction," said Zeke Dumke, Hope Lodge Development Board vice chairman. "But as we noticed today, we saw trucks from a number of different companies all volunteering."
Kelly Miller knows firsthand how this facility can help families. She lost her lower left leg 40 years ago to bone cancer, and then 18 months later was diagnosed with lung cancer. Doctors at the Mayo Clinic in Minnesota treated her. Her single mom had to leave her job to go with her and often pay for hotel rooms.
"There were times when surgeries necessitated me staying back there, 30, 45 days at a time," Miller said. "People coming here outside the state of Utah will remember this as a positive in an otherwise dark period of their lives."
The goal is that the Hope Lodge will open its doors to 800 cancer patients a year, starting in the summer of 2015. The development board has raised nearly $15 million of the $18 million needed to complete construction. Donations are welcome at Hope Lodge Utah.
---
*KSL.com has not verified the accuracy of the information provided with respect to the account nor does KSL.com assure that the monies deposited to the account will be applied for the benefit of the persons named as beneficiaries. If you are considering a deposit to the account you should consult your own advisors and otherwise proceed at your own risk.