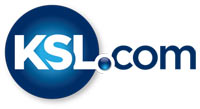 Voice researchers study Pres. Hinckley's speeches
November 29, 2012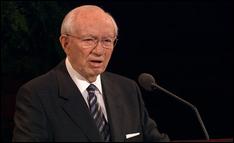 SALT LAKE CITY — One sign of aging that is often overlooked is the voice.
Now researchers at the University of Utah are analyzing speeches from the late President Gordon B. Hinckley of The Church of Jesus Christ of Latter-day Saints to learn about voice health.
Lead researcher, Dr. Eric Hunter with the University of Utah's National Center for Voice and Speech used 50 years of speeches from Pres. Hinckley to analyze how to help people extend the use of their voices.
Hunter says the voice weakens over time. From age 50, the pitch of a woman's voice will deepen while a man's will become higher. He says by age 70 it's hard to tell grandma and grandpa apart because their pitches go up.
The study analyzed 36 of Pres. Hinckley's speeches delivered at Brigham Young University from 1995 to 2008. Hunter says Pres. Hinckley was a good candidate to study.
"He had very few health problems throughout his life," Hunter said.
Hunter and his team listened for pitch, when Pres. Hinckley's voice would break, and when he would take breaths.
Hunter noticed during those 50 years of speeches, Pres. Hinckley's voice steadily dropped in pitch as he aged. He began using shorter groups of words. And by age 75, his voice pitch became higher.
"That's where muscle fibers begin change and you really have to watch on maintaining those because you will actually lose a lot of ability," Hunter said.
What Pres. Hinckley's voice tells us about our own health, says Hunter, is the need to maintain strong vocal cords as we age, just as we would other muscles in our body.
Speech therapist Mara Kapsner-Smith says an exercise used around the world in which people sing through a straw is meant to strengthen vocal cords. "That back pressure kind of helps train the vocal cords to give a little more umph when you're speaking," Kapsner-Smith said.
That oomph can serve as a powerful tool for the growing 65-plus year old demographic, which may have to look beyond the reflection in the mirror to maintain a competitive edge.
"You take a professional who is in his later 60s, early 70s and they are very involved in their profession. They want to keep their commanding voice," he said.
"So if they're able to do a simple exercise that can improve the quality of their voice, improve their stamina and endurance, and prevent injury to the voice, that really helps them maintain their professional lives as well as their personal/social lives," he added.