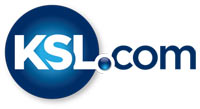 Woman fights off knife-wielding attacker
October 4, 2012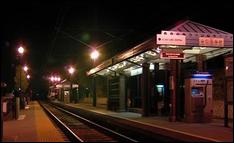 SANDY — Police are looking for a man with a knife who attacked a woman getting off a TRAX train in Sandy. The woman fought back with a full soda pop bottle as the man tried to drag her into a field.
Lt. Victor Quezada said, "She felt something bad was going to happen if she went to that field area."
The 25-year-old woman from out of town left the TRAX station at 115 E. Sego Lilly Drive in Sandy about 11:50 p.m. Wednesday walked toward State Street to her hotel. She noticed a man following her, and about a block from the station, a he grabbed her from behind in a "bear hug" and tackled her to the ground.
"This male then pulled a knife on her, kind of a hunting knife, if you will," Quezada said. "She was able to hit this male with a Dr. Pepper bottle across the head, and they struggled some more."
He tackled her to the ground two more times and told her to be quiet. When she got up to run away, the man grabbed her foot, which came out of her shoe. During the struggle she was able to reach her cell phone and call 911.
"The dispatcher was able to hear the commotion before it became disconnected," Quezada said.
While on the phone with the emergency dispatcher, the man grabbed the phone out of her hand and ran off in the opposite direction.
"You hear her say, 'Hey,' and then you can hear the phone rubbing against his leg as he's running with the phone. He did not disconnect the phone," said Sandy Police Sgt. Jon Arnold.
After reviewing surveillance video, Sandy police said the woman arrived at the TRAX station 10 minutes before the man who attacked her arrived on a separate train. Investigators didn't know how he had caught up with her.
When police arrived, seven police dogs tried to track the attacker, but he got away. Neither the shoe or the phone has been located.
The woman described the man as in his 30s, with shaggy blonde hair wearing khaki pants and an orange hooded sweatshirt. Police say they considered him armed and dangerous.
"She said he smelled like he hadn't showered in a couple of days. She thought he was possibly homeless," Arnold said.
"This guy needs to be off the street," Quezada said. "He's proved he's dangerous. He's pulled a weapon on somebody, grabbed a female. We don't know what his intentions were, but they were probably not very good."
Police say the woman did everything right in this situation.
"She held her own, which is good," Quezada said. "That's probably what saved things from going any further. We're not sure how much further they would have gone, but she did do her job tonight and she fought him off."
The Sandy Civic Center TRAX platform is near the Dimple Dell gully where there has been a problem with homeless camps in the past. But Arnold said it had been awhile since police had had issues with homeless people in that area.
Investigators were also trying to determine a motive for the attack. Detectives were unsure Thursday if it was robbery, a sexual assault or something else. The man only got away with the woman's cell phone, and he did not make any make any sexual references or grope her, even when he tackled her to the ground, Arnold said.
"He didn't make any statements. He didn't tell her whether he was going to do anything," he said. "Even when he had the knife, he just said, 'Be quiet.'"
Investigators want anyone with information about the attacker to call police immediately at 801-840-4000.
Contributing: Pat Reavy