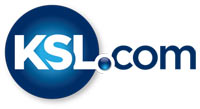 BYU freshman defying odds, one step at a time
November 24, 2011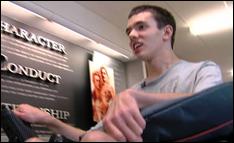 PROVO -- Many people give thanks this holiday season for their physical health and strength, but one inspiring BYU freshman says he's actually thankful for his disability.
Sitting in the back of the class, his wheel chair parked near the door, one might overlook Andrew Justvig. That is, until he starts to laugh.
It's joyful and uninhibited. It's also loud and catches some of his new classmates off guard.
But the pure happiness that exudes from Andrew is far from the only surprising thing about him.
"I view my CP as a gift, rather than a challenge," he said.
Cerebral palsy, the very thing that cripples his body and keeps him from jumping out of his chair like the other BYU freshmen surrounding him, is to Andrew, not a disability. It's a gift.
"My doctor told my parents, 'He will never walk, he won't have a normal life.' Look where I'm at today," he said.
Andrew's cerebral palsy comes from a lack of oxygen to his brain. It affects only what you see and hear on the outside -- his motor skills, speech and body movement. But he knows not everyone realizes that right away.
"Normally, they first talk slow. Because I talk slow, they think they need to talk slow," Andrew said. "I'm proof that it's not always what's on the outside."
Andrew's parents were told he would never walk, but his grandparents saw determination in their young grandson. They told him if he could take a few steps they would buy him a Disney movie.
They finally stopped when he got up to 100 movies.
"I look at a challenge and I say, 'why not do it?'" Andrew said.
Despite his physical disabilities, Andew is taking a full class load without assistance. He can't write, so he memorizes much of what he hears. He has big goals for the future -- a 2-year LDS mission, running for political office and working for Disney -- the company that inspired him to walk.
He's also hoping to find love.
"Each night when I go to bed I repeat a famous line from "The Music Man" -- 'Goodnight, my someone.' I know she's out there. I know it. I know I'm ugly, but hey, it will make her look more beautiful," he said.
Things may take a little longer, and they may be more of a challenge. But don't tell Andrew he can't, or he'll quote a line from one of his heroes, Walt Disney.
"It's kind of fun to do the impossible."
Email:jstagg@ksl.com