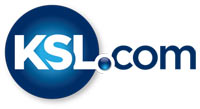 Provo City puts garden to good use
July 10, 2011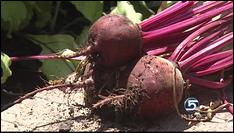 PROVO — Provo City Planner Mark Boeckel has been pulling fresh beets at City Hall lately, and there are many other vegetables growing there too.
"We have peppers, eggplants, potatoes, watermelon, cantaloupe, three different kind of squash, rhubarb, tomatoes and several different types of herbs," Boeckel explained.
This urban garden started out a couple of years ago — the idea of city planners who all have a green thumb.
"Sometimes it's hard to see empty space, and so usually when I am driving around or walking around and I see a vacant park strip or something, I want to throw strawberries there or something like that," said Nathan Murray, with the Provo City Planning Department. "This is something we saw a few years ago and thought we'd plan it."
While the city planners do use this as an example how people can grow a garden even with limited space in an urban environment, there is another reason they grow these vegetables.
The produce grown at City Hall is donated to Community Actions Services, the local food bank in Provo. It's part of the "Grow a Row, Share the Harvest" program, which encourages gardeners to donate excess produce.
"We have a great community that donates a lot of canned items, but a lot of these individuals don't have access to fresh produce, so this program allows them to have fruits and vegetables which they need to have a healthy diet," said Eric Lafferty, communications director for Community Action Services.
Back at City Hall, there is no taxpayer expense for the garden. The employees do all of the gardening, weed pulling, watering and harvesting before and after work, during their lunch and even on weekends.
"It's nice also, when you are at work, to be able to look over here and see the garden growing and know that what you are doing is going to help the food bank," Boeckel said.
When the Provo employees first started planting a couple of years ago, they grew 200 pounds of produce. Last year, they harvested 600 pounds, and this year's goal is 1,000 pounds of vegetables — all of it for the food bank.
Email: spenrod@ksl.com