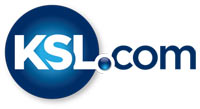 Family of Jeremy Kunz remembers him with Star Valley half-marathon
July 3, 2011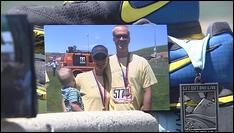 SALT LAKE CITY -- Jeremy Kunz was a father of three, who had a passion for life. He loved people, he loved serving others and he loved running.
"Running was not the ultimate goal for him," recalls his father Bart Kunz. "He liked to run, but I think being with other people that were runners and associating with them, that's what he really liked."
Jeremy found a way to combine his love of people, with running in the outdoors. After seeing the Ragnar Relay's Wasatch Back race travel through Kamas, where he lived, he decided to start his own relay team. He convinced friends and family to join him in forming a team called "The Wannabe's."
"I think he saw it as a chance to meet goals," said his father. "He liked to set goals in order to accomplish something."
The relay became an opportunity for him to enjoy the things he loved -- people, running and the outdoors. It was something he passed on to his wife Melinda.
"We hiked a lot and went on backpacking trips," Melinda recalls. "Running was a way to prepare for those trips."
On October 10, 2009, Jeremy traveled with his team to Las Vegas to participate in their Ragnar Relay. He was standing on the side of the road, waiting to give one of his teammate's water, when the unthinkable happened -- he was struck and killed by a drunk driver.
"It was just like the air got sucked right out of you." said his mother Denise, who was participating in the relay. "You couldn't even breathe all day. It was hard, very hard."
After hearing the terrible news, Melinda's thoughts quickly turned to her three young children.
"The thought in my head was, 'I've got to get home to tell my kids,' she said. "It wasn't until days later that they finally realized, 'Oh, Daddy isn't coming home. He's not going to come through those doors and give us a hug.' "
Shortly before the accident, Melinda and Jeremy had their final conversation over the phone.
"We always ended our conversations with 'love you.' So he got to tell me he loved me one last time." she said. "And I got to tell him, which has been very comforting."
Jeremy was struck and killed by 25-year-old Joshua Salayich. His blood alcohol level at the time of the accident was .26. He is currently serving a sentence of seven to 20 years in a Nevada prison. Although the family sought justice, they also chose to forgive.
"This young man that hit Jeremy is somebody's son too, and I felt terrible for their family." Bart said. "I've said to many people, 'Why should we think that we are exempt from the trials of life.' We can't be and we shouldn't be, and as a result of that, it's been pretty easy for us -- I think -- as a family, to forgive."
The family has learned to lean on their faith and each other to deal with such a tremendous loss.
"We know we will see him again." said his mother Denise. "We are a forever family and that is an anchor for us."
The family continues to celebrate Jeremy's life by doing what he loved to do. The Wannabe's still compete in the Ragnar Relay and have started a half marathon to honor his memory in the place where he grew up -- Star Valley, Wyoming.
"Right now, we're in the process of putting on Star Valley's first half marathon, in the hopes that people will change their lives and get out and get active." said Denise. "We're seeing a lot of success with that and it helps us. It's good for us."
Melinda is determined to press on without the love of her life. She is determined to do what Jeremy would want her to do.
"I'm still running," she says. "Our biggest thing is always, 'what would daddy want us to do. How would daddy want us to react to this?' And that's helped a lot. Just doing them and keeping a smile on our face. Running has been a great release and a great way to think about Jeremy."
The Star Valley Half Marathon will take place on Saturday July 9. The course runs through beautiful Star Valley, Wyoming, just a three and a half hour drive from downtown Salt Lake City. Proceeds from the event will be used to help those in need. If you would like to register or learn more about the half marathon visit starvalleyhalfmarathon.com.
Email: jjensen@ksl.com Twitter: @JJSportsBeat