What is the KSL Live 5 Weather Channel?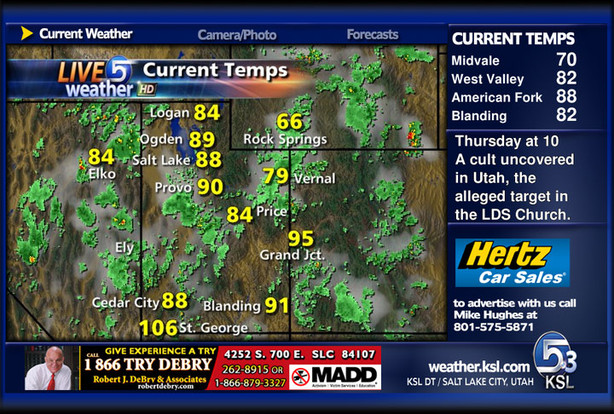 In January 2009, KSL-TV launched a new weather service on its digital sub-channel 5.3. This channel replaces the old Weather Plus service and provides local weather-related information through a series of still images.
What is a digital sub-channel?
Under the new digital broadcasting standard, stations are able to create sub-channels that contain different programs. If you have a digital tuner built in your TV or if you have a converter box for your old analog TV, you will be able to receive these sub-channels. KSL currently has three sub-channels: 5.1 for its high-definition programming, 5.2 for Universal Sports, and 5.3 for the Live 5 Weather Channel.
If you use cable or satellite, these sub-channels may be moved to other channel numbers. Comcast, for example, carries KSL-TV 5.3 on channel 105.
To learn more about digital sub-channels, DTV, and HDTV, see our DTV transition page.
Why did you discontinue Weather Plus?
Although KSL-TV provided some local weather content through Weather Plus, it was primarily a service of NBC. NBC decided in late 2008 to discontinue Weather Plus, which left us with the choice of either eliminating the weather channel entirely or replacing it with a local weather channel of our own creation.
What information can I get from the Live 5 Weather Channel?
The channel currently has 7-day forecasts, Live 5 VIPIR radar images, web cameras, and weather photos. We are very interested in hearing your opinion about the content we provide, so please fill out the contact form at the bottom of the page and tell us what you think.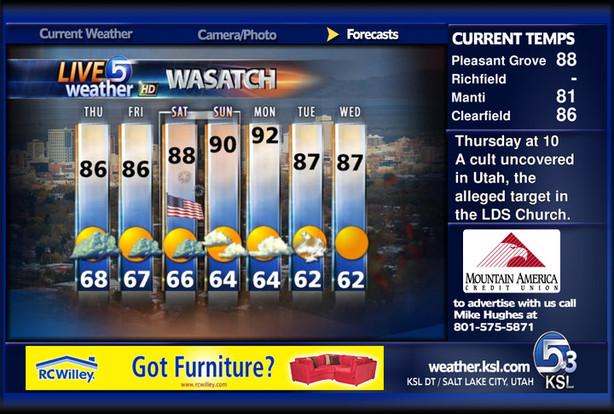 Why does the picture look blocky on my TV?
KSL-TV, like all other digital stations, has a limited amount of bandwidth that it can use across all of its sub-channels (5.1, 5.2, and 5.3). The more bandwidth that is allocated to a sub-channel, the better it will look. Because the weather channel includes only still images, we have allocated a smaller amount of bandwidth to it. We are still evaluating the quality of each sub-channel, though, and may make further adjustments.
Updated March 5, 2009: KSL-TV has improved the video quality on the channel. The Live 5 Weather Channel should look significantly better.
Updated July 1, 2009: We listened to you, the viewers, and have updated the Channel to be more functional and user friendly. Let us know what you think by filling out the form below.
Updated July 31, 2009: We listened to you, the viewers, and have updated the Channel to now have an audio track. Let us know what you think of the music by filling out the form below!