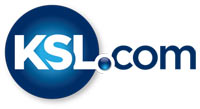 Utah gymnastics adjusted preseason training to stick landings earlier in season
January 2, 2018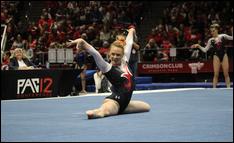 SALT LAKE CITY — Setting goals in the new year isn't uncommon, but sticking with them is another story. For Utah gymnastics, sticking is literally what the team is trying to do.
"Nationals last year came down to landings," co-head coach Tom Farden said. "We didn't stick one vault landing in the Super Six and we also struggled with our landings on floor and dismounts on bars on that last day."
Co-head coach Megan Marsden agreed, adding that while the team accomplished its goal of making it to nationals, it "left tenths on the floor that might have allowed (Utah) to finish higher."
When the team returned to Utah after finishing fifth at nationals, the returning members came together and determined their goals for 2018, deciding they wanted to finish in the top three at nationals.
"We're capable of that," senior Tiffani Lewis said, adding the Red Rocks are aiming to score in the mid-197s throughout the season.
In years past, the coaches weren't as strict on sticking in the beginning of the season, understanding landings would improve as the season progressed. Because of last year's struggle with dismounts in the postseason, the coaching staff decided to try a new approach for the upcoming season, "emphasizing mechanics that will put athletes in a position to stick more frequently." The Red Rocks spent the past few months in preseason training stressing sticks, knowing they can't afford many score deductions if they want to be among the nation's best.
"We've been practicing sticking a lot this preseason," Lewis said. "It's the little things that will really separate us."
The Red Rocks' efforts showed in their intra-squad meet in December. A handful of gymnasts, including freshman Sydney Soloski, stuck their dismounts with ease. Other landings were what coaches call a "controlled step," which is being accepted in practice.
"We want to narrow those down overtime into a stick," Farden said. "Landings are the separator."
Utah begins its season hosting BYU on Friday at 7 p.m. MST. The meet will be televised on Pac-12 Networks and broadcast on ESPN-700 radio.