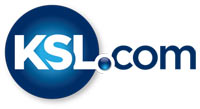 No. 13 Cougars rely on defense for 6th-straight NCAA volleyball Sweet 16 appearance
December 7, 2017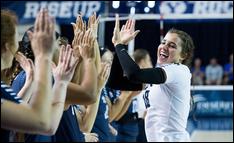 PROVO — For six straight years, the BYU women's volleyball team has been in a familiar spot around the first week of December.
Still practicing. Still playing.
This week, the 13th-seeded Cougars (31-2) are one of just 16 teams that can say that as they prepare for the Round of 16 in the NCAA Tournament at 10 a.m. MST Friday at fourth-seeded Kentucky (28-3).
"It was really fun coming back on Monday and realizing that we had the chance to be able to practice again," said sophomore libero Mary Lake, who had 20 digs each in a pair of sweeps of American and Oregon. "We have a goal to be able to practice next week, too, and our team is really excited and feisty to get out to Kentucky and play."
Unlike in previous rounds, though, BYU will travel to the Lexington Regional, which also hosts No. 5 Nebraska (28-4) and Colorado (24-9)—an unseeded squad that stunned No. 12 Baylor in the Waco subregional last week.
Both the Cougars and Wildcats ride nine-match win streaks into the Sweet 16, with BYU's lone loss coming against San Diego for its only loss in West Coast Conference play (17-1).
"We play really well on the road," said middle blocker Cosy Burnett, one of four All-Pacific South Region honorees at BYU. "We don't get intimidated by crowds, and we feed off it. It's fun when BYU fans come out, and sometimes they are bigger than other (home) crowds."
If there was any expectation of the Cougars winning among the four teams in the Provo subregional last week, those are gone now—and just the way middle blocker Cosy Burnett would have it.
"We went into the first two games not really expecting to win, and I feel like we aren't going into these games expecting to lose," Lake said. "We're just going in game by game and point by point, expecting to play our best."
While offense makes the highlight reels, the Cougars' run has been driven primarily by defense.
BYU ranks No. 11 nationally with 2.92 blocks per set and No. 13 with 329.5 team blocks.
But even when the blocks aren't coming—like what happened against Oregon, which held the Cougars to just two team blocks—defense has propelled BYU to a familiar place.
"Mary Lake was phenomenal, and she carried our team," said BYU coach Heather Olmstead, who improved to 87-10 in three seasons as a head coach. "We had 40 digs against Oregon, and she had half of them. It says a lot about our resiliency and grittiness, to just keep the ball up.
"Blocking was a struggle against Oregon, and we figured some things out as the match went on and got some good touches. That's part of the number that people don't see: the good touches on the ball."
Even the non-defensive specialists have taken to defense on the Cougars' back line. Outside hitter Roni Jones-Perry—another all-WCC and all-region honoree—poured in 27 kills against the 24th-ranked Ducks.
But the former Copper Hills standout also dished out five digs and is averaging 5.3 digs per match in addition to 17 kills.
"It's really easy for a lot of people who hit to just hit. But Roni works so hard on defense and serve-receive," Lake said. "She comes in every day and wants to get better. It really changes the game for us when we can have someone that powerful hitting from the back row and playing defense and getting great passes. I have so much respect for her."
The combination of offense and defense has made the Cougars one of the most consistent teams in the postseason over the past six years. Names and roles change, and stats are shuffled by number.
There's an expectation with BYU volleyball. But it might not be the one fans would ... well, expect.
"This team expects to work hard, and we expect to get in the gym and grind," Burnett said. "It's really hard to win just a conference championship, but we expect to put in the work it takes to accomplish that.
"We know we are going to work hard—and the results will come as they come."
That starts with the right players.
"We are bringing in competitors who want to be great in the classroom and in the gym," Olmstead said. "They keep a consistent level, no matter who graduates. Everyone is chomping at the bit to compete.
"I'm happy that we are able to sustain success. I don't think it's easy—it takes a lot of hard work. But I think we're just going to keep working hard, and hopefully win one more match."