Estimated read time: 2-3 minutes
This archived news story is available only for your personal, non-commercial use. Information in the story may be outdated or superseded by additional information. Reading or replaying the story in its archived form does not constitute a republication of the story.
Ed Yeates Reporting Would our home kitchens pass a food inspection? The Salt Lake Valley Health Department says 'no' in most cases. A warning tonight about some things we may have never thought about.
What could possibly be wrong with putting eggs on the top shelf? Salt Lake Valley Health Department Food Protection Supervisor Jeffrey Oaks says you should store eggs on a bottom shelf.
Jeffrey Oaks, S.L. Valley Health Dept. Food Protection Bureau: "Potentially, if there was an egg to drip or perhaps you open the container to remove one egg and you dropped it - it spilled - it dripped, not knowing where all that drip goes. If it goes into the open container and it's not a food you cook - there would be potentially live salmonella."
The same holds true for meats, like a hamburger. Don't put them on an upper shelf above raw vegetables.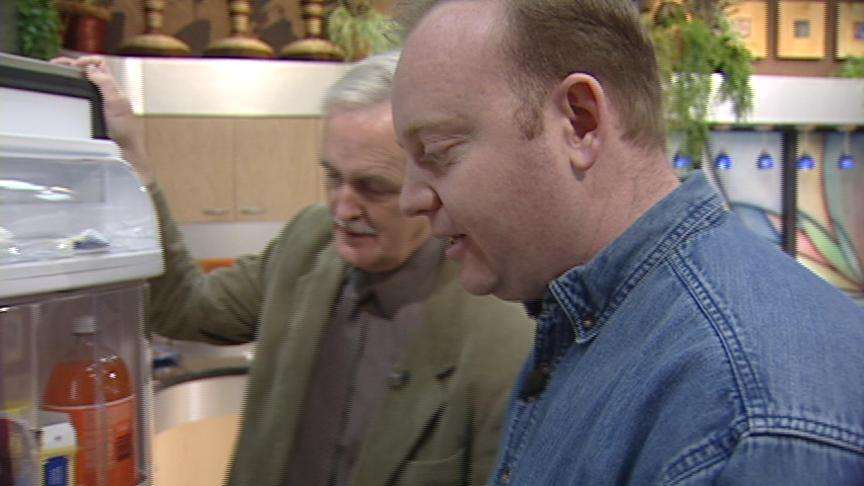 Jeffrey Oaks: "We buy a package of hamburger or chicken and we just put it away quickly, and we know we want it cold, that's what I do. If that happens to be leaking juice and that trickles down through, there's a potential for contamination, bacterial contamination."
While we put eggs on a lower shelf, meats should go even lower, like in the bottom drawer. One thing that most people aren't aware of is that foods like rice, when cooked, actually begin to grow bacteria; a resilient one called Bacillus Cereus.
Jeffrey Oaks: "It's in what we call a spore form, a protective form where it can survive a cooking temperature, even a boiling temperature."
It's OK to eat it at that point. But if left out too long at room temperature, you're asking for trouble. And don't refrigerate large amounts of something like rice in one big pan.
Jeffrey Oaks: "The temperature in the center could stay at room temperature well overnight, potentially 12 hours in your refrigerator."
Your refrigerator temperature should be 41 degrees or lower. Remember that's food temperature, not air temperature.
Oaks says we should clean out our refrigerators once a week and wipe down shelves.
If you'd like to take a quiz to see how your kitchen rates, visit the links to the right.
×
Related links
Most recent Utah stories