Estimated read time: 2-3 minutes
This archived news story is available only for your personal, non-commercial use. Information in the story may be outdated or superseded by additional information. Reading or replaying the story in its archived form does not constitute a republication of the story.
Gene Kennedy ReportingEight federal attorneys fired. It's the story of the week. Now two men with Utah connections are caught in the middle of the mess.
New e-mails reveal the president's chief of staff Karl Rove may have played a role in the firings.
Rove used to live in Utah. He's now the second person with a Utah connection tied to this. The other person is Kyle Sampson, who recently worked for the U.S. Attorney General. There are accusations he was involved in the e-mail exchange to boot the federal attorneys.
E-mails dating back to 2005 indicate that Rove asked White House lawyers to fire the federal attorneys all at once or dismiss them "selectively." Rove says the accusation is inflated with political motivations. But some senators feel he should testify about it before Congress.
Senator Charles Schumer, (D) New York: "If the White House prevents Karl Rove from testifying, it will be thumbing its nose at the American people and at the rule of law."
The president's top lawyers will tell Congress today whether Rove can testify and under what conditions. Officials from the Justice Department will be testifying voluntarily. And we could hear from Sampson, who is a BYU graduate.
This has been the story of the week, and the political war of words is just beginning.
Senator Jon Kyl, (R) Arizona: "It is clear this has not been handled well by the administration. It's also clear that Democrats are overreaching for what appear to be political reasons."
We'll see if they're overreaching in the weeks to come.
There's definitely going to be a congressional inquiry into this.
Meanwhile, more congressional criticism of Attorney General Alberto Gonzales. Even Republicans are backing away from him.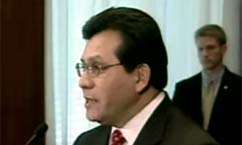 One Republican member of the House Judiciary Committee says he's told White House officials that Gonzales stands no chance.
This comes after Republican Senator Gordon Smith of Oregon said Gonzales has lost the confidence of Congress, and New Hampshire's John Sununu urged President Bush to fire Gonzales.
Senator John Sununu, (R) New Hampshire: "It's about a pattern that's put him in a position where he can't serve the president and the country effectively. That's why I think the president should remove him."
Justice Department has said officials will testify voluntarily if asked. And today we'll learn whether and under what conditions high-level White House officials, including Karl Rove, will testify.
×
Related links
Most recent Utah stories